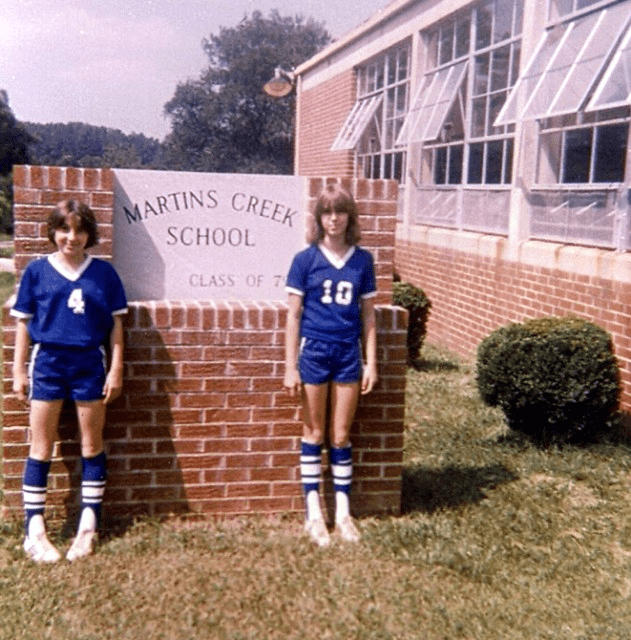 Angie and Tipper – Martins Creek Elementary School 
Pretty Girl Station is a game I remember playing in the grassy fields that lay below old Martins Creek School. We called the game Bum Bum Bum. The game has many variations and seems to have differed depending on the region a person is from. I'll share the way I played it as a child and if the game went a different way where you lived, please leave a comment and tell us about it.
The game begins with a group of kids dividing themselves into teams. Each team makes a long line. The lines face each other-leaving a good distance between each other.
Each group huddles up-and decides on an occupation which they want to portray. A line is picked to go first before hand-then the line chosen marches towards the other while singing: Bum bum bum here we come all the way from Washington.
The marching singing line stops short just in front of the other line. The other line yells out a series of questions and the marching singing line answers:
Where're you from?
Pretty Girl Station
What your occupation?
Doing things.
Well get to work!
The marching singing group begins to act out their chosen occupation- sorta like the game of charades. The other line tries to figure out what they are doing by yelling out guesses. If the right guess is screamed out-the marching singing group takes off running with the guessing group giving chase. The marching singing group tries to make it back to their side of the field without being caught-if a person is caught-they must join the other group.
The game continues with each side taking turns acting out a chosen occupation.
I have such fond memories of this game-thinking of it always makes me smile. It makes me think of teachers who have long since retired like Ms. Reeves, Ms. Carringer, Ms. Brenda, and Ms. Sult; of elementary school classmates playing in the sunshine with a breeze blowing through the grass that already needs cutting again.
Did you ever play Bum Bum Bum or did you call it Pretty Girl Station?
Tipper
*Source: The Frank C. Brown Collection Of North Carolina Folklore