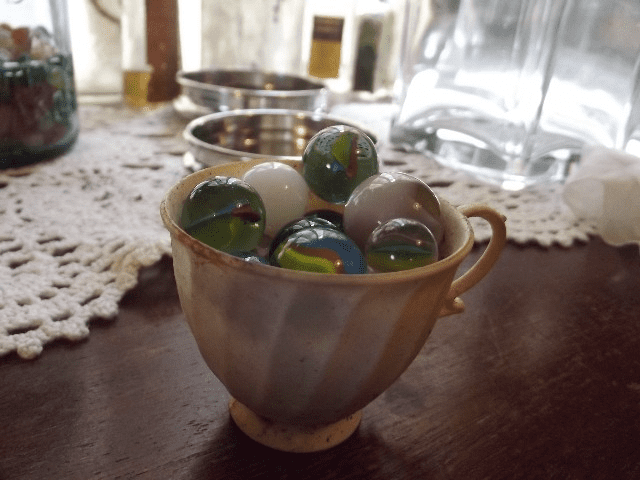 I've always loved marbles not necessary to play with, just to hold in my hand and look at. I remember when I was in the 2nd or 3rd grade playing marbles was popular with the older boys. I say older, but the school only went to 8th grade.
During that time my big brother Steve acquired a whole collection of marbles. He had the regular sized ones and the big marbles that he called dough rollers. Steve was picky with his stuff and didn't like Paul and me prowling through his things, but I took advantage of the times he wasn't home to look at his marble collection and marvel at the pretty swirly colors.
Chatter and Chitter collected marbles for a while and even as an adult I was still mesmerized by their pretty colors. Once the girls decided they were too big for marbles they shot them all off the front porch with their sling shots. Now you can find marbles all over the place around our house. Whenever I find one I put it in my pocket and take it back to the porch.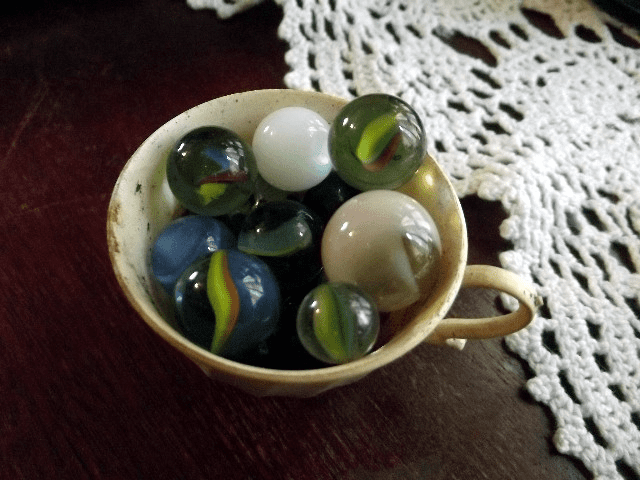 Ed Ammons recently shared a marble game called Jack in the Bush with me-he wrote up the game as if Chatter and Chitter were playing it:
Jack in the Bush
A game for two players, played with marbles or pennies. To start each player takes an equal number of pieces and hide them from the other's view. The first player takes out a number of pieces and holding them in her cupped hands says:
Chitter "Jack in the Bush!"
Chatter "Cut him down!"
Chitter "How many licks?"
Chatter "Shake 'em up!"
Chitter then shakes the pieces inside her hands so that Chatter can hear them. Chatter listens to the pieces and guesses how many there are. If she gets it right, she gets all the pieces. If she guesses wrong she must give Chitter the difference between what she guesses and the actual count. If she guesses 5 and there are 8 then she must give up 3 pieces. Then Chatter takes her turn"
Chatter "Jack in the Bush!"
Chitter "Cut him down!"
Chatter "How many licks?"
Chitter  "Shake 'em up!"
This goes on, back and forth, until one player has all the pieces and the other has "lost her marbles."
—————
You can go here to find out how to play marbles a whole bunch of different ways.
Did you ever play marbles or collect them?
Tipper