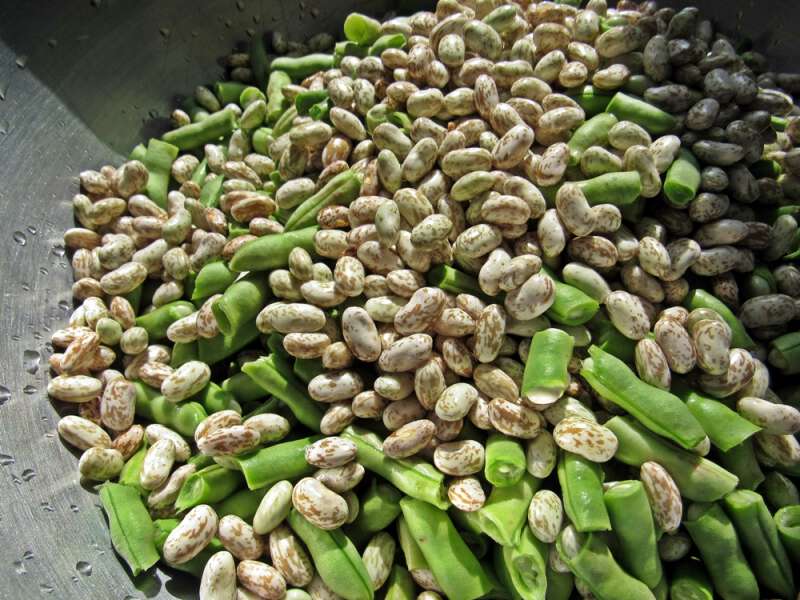 shelly bean noun Any large bunch bean that is removed from the shell and is good as a dried bean stored for winter consumption.
1936 Farr Folk Speech 92 = dried beans. "We eat shelly beans of a winter." 1958 Wood Words from Tenn 15 = type of legume that tends to shell itself during cooking. 1971-73 Pederson et al. LAGS (Blount Co TN, Sevier Co TN).  1986 Pederson et al. LAGS 17 of 24 (70.8%) of LAGS speakers using term were from E Tenn. 1991 Haynes Haywood Home 48 In September and October, we harvested pumpkins, squash, shelly beans, potatoes apples, molassy cane and corn….Shelly beans were planted in corn fields or along fences so they would have something for the vines to run up on. We'd pick the beans and spread them on a wagon sheet (thick canvas) to dry in the sun….After the beans on the wagon sheet dried, they were sacked in toesacks (burlap) and hung from a tree limb or rafter in a shed. Then we'd beat the day-lights out of them with a stick. Come the first good windy day some body would get up on a shed roof to wind-clean the shellies. A wagon sheet would be placed below and the beans poured from the toe sack by the person on the roof. As the beans fell to the wagon sheet below, the wind would blow away all the chaff and debris. Clean beans could then be stored.
Dictionary of Smoky Mountain English
———————-
Our first canning of beans this summer had lots of shellies in them. The dry weather we had at the beginning of the summer seemed to dry the bean pods out faster than usual. When I was growing up, Pap and Granny never harvested dried beans, but Granny called the beans that had to be removed from their pods for putting up shellies. I think a lot of folks in this area do.
How did you like the technique they used to blow away the chaff from the dried beans? Pretty smart if you ask me.
Tipper