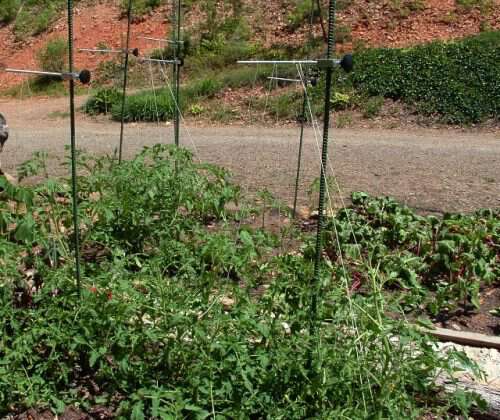 A few of you asked for an additional photo of Kenneth's Tomato Stakes. It's kinda hard to see the whole stake in the midst of the green plants. Other than tying the tomato plant to the sliding threaded part-the rest works just like a regular tomato stake would-put it in the ground near your plant and tie the plant to it. The sliding portion allows you to easily adjust the stake as the plant grows through the season.
The Frank C. Brown Collection of NC Folklore lists the following about tomatoes:
plant tomatoes on Memorial Day
tomato seeds should be planted the 2nd or 3rd day before a full moon
set tomato plants out in the full moon-so the plants will be full
set plants out in the twin sign of Gemini and your tomatoes will have smooth skin
Pap tells me his Mother saved her tomato seed from year to year. She would start her tomato seeds in early spring under the edge of the porch where they could get sunshine-but be easily protected from late frosts and cool nights. Pap said she started all of their seeds but took extra special care of her tomatoes-because she loved them best. Her great love of tomatoes apparently got passed down through us-cause we all love tomatoes. One time Pap's sister told me she didn't think you were a true Wilson if you didn't like tomatoes.
Tipper
Appalachia Through My Eyes – A series of photographs from my life in Southern Appalachia.