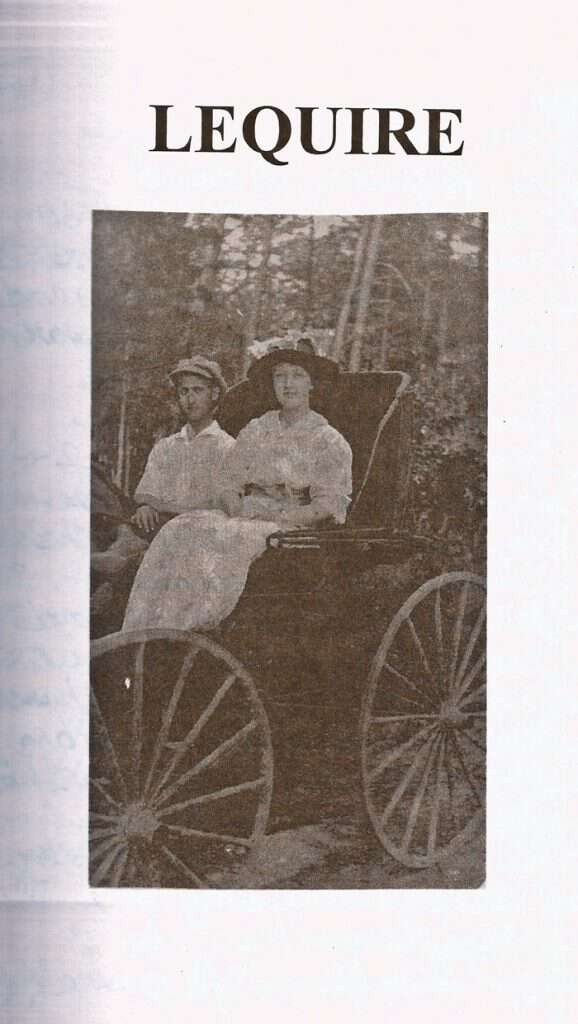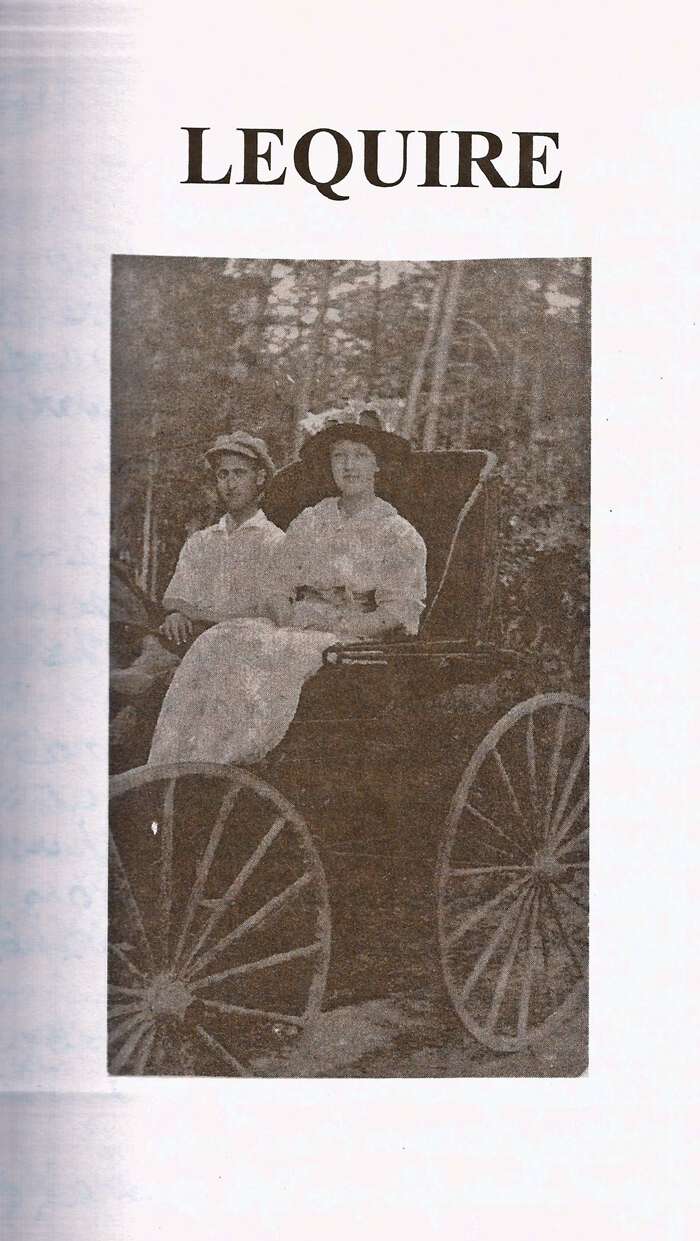 Milton & Ruby LeQuire, 1920
 Excerpt from Recipes, Remedies & Rumors, a set of cookbooks published by the Cades Cove Preservation Association:
John LeQuire born in France about 1758-1760 came to Tyron County N.C. (now Rutherford County) and fought in Revolutionary War. One of his grandsons Joseph LeQuire & wife Martha Womack and 2 brothers & 1 sister came to Cades Cove during the Civil War. Their son "Grayson" was my grandfather, they are buried at Cades Cove Methodist Church. "Grayson" married Dan Lawson's daughter "Martha". Their son "Milton LeQuire" married "Ruby Thompson", they are my parents.

Gene LeQuire

Some of the "Good old days" were not so hot! As the following portions of letters will show.

(Muddy Rich Mt. Road)                     Cades Cove Tenn.
Jan 25 1926

Dear Daddy & Mama

How's every body. Hope this will find you both better. We made it in alright. Never saw so much mud tho. Almost stuck several times. Nearly 11 oclock when we left Maryville & was 2 oclock when we got here. Been pretty cold up here. The ground is white with snow now that fell last night. Theres lots of pneumonia up here. "Ma" LeQuire isn't able to be out, look awfully bad.

I fixed our room up Saturday afternoon, put the linoleum rug down. I had to use hay in the straw tic's but they are pretty comfortable. It's a good thing I came on with Milton because the roads are getting worse all the time and be past traveling if it keeps up.

It would sure be a hard trip across the mt. on horse back but I sure did hate to leave you all sick, I hope none of us take pneumonia, its sure hard to get a Doctor up here,

Love Ruby

————–

(Daddy walked & led milk cow from Maryville to Cades Cove)

Mar. 21, 1927
Cades Cove Tenn

To Mrs. Lizzie Thompson
Rt 5 Box 139, Whites Mill Rd.
Maryville Tenn.

Dear Daddy & Mama,

Hope this will find you both feeling good, were all very well, snowed some here last night & cold and Smoky's white. I haven't got any garden made, not even a lettuce patch.

Milton sure was tired when he got home that night. Luther met him with the mule nearly half way. Were liking the cow fine. She doesn't give a whole lot of milk, but it's awfully rich. We get enuf to have plenty to drink, all the cream & butter we can use and a little for the pigs!

I'm getting lots of eggs, 25 some days, & just have about 30 hens.

There's a lot of excitement up here over the Smoky Mt. Park. N.C. has already passed on it and raised $2,000 000 for their part, also it was in the law that if people wouldn't sell them the land, they would condemn it, so they would get it any way if Tenn. makes the same rules we may have to sell out and leave here. Hope sometimes they won't get the park for if they didn't take the land, they would tax us to death! Looks bad either way. The roads are awful & can't even get to church.

So lonesome to see you all & can't hardly stand it, Love to all,

Ruby & family

————–

(Canned garden vegetables, potatoes & baby chickens frees)

Cades Cove Tenn
Jan 4, 1928

To Mrs. Lizzie Thomspon
Rt 5 Box 139 Whites Mill Rd
Maryville Tenn

Dear Daddy & Mama, will write you a little while I write. It sure has been cold up here since Sat. It was 4 below zero Monday & was colder Sunday. I've hardlyy been out. Can't get anything done only cook & hover over the fire. A light snow fell sat. & Sunday night & The coldest wind I ever felt blew for 3 days. Milton did all the outside work a little at a time and back to the fire froze.

Our potatoes & fruit froze. Been as bad as when  "Dad" died. (Grayson Lequire 1867, 1925)

I guess we'll kill the other hog before long. It killed a chicken last week and we had to put him in a close pen. are you getting any eggs? I'm not getting many & they're all frozen, and my little chickens are all freezing to death.

Well, its about mail time so I'd better stop, write us soon,

Love to both of you from us, Love Ruby

————–

Sunday Aug. 12 1928

From Lizzie Thompson To
Mrs. Milton LeQuire
Cades Cove Tenn.

Dear Children

I hope you are getting along alright, we are as well as common. Ruby, we want to see you and the "boys" bad, but don't try to come till you are well and strong enough to cross that mountain. Tell arnel (Arnold) to help take care of "Mama" and that new baby brother (Gene) and I hope to see you all soon

Love to all, Mother

————–

(I was born Sunday August 5, 1928 delivered by Polly Harmon Midwife Granny Woman)

Gene Lequire

————–
I hope you enjoyed the peek into the letters of Ruby Thompson LeQuire. I'm so thankful her son Gene shared them. Several things caught my eye:
Ruby's description of mud. I can totally relate, this time of the year I live in a sea of mud. We slip and slide up and down the driveways until we reach the blacktop.
Milton's walk to get the cow. Thinking of that trip pulls on my heart strings.
You can't miss the unease of the rumors swirling around the possibility of a park taking over their homes.
In the last letter Ruby's mother uses the phrase I said Pap used sometimes as well as common.
Check out this link for information on purchasing Recipes, Remedies & Rumors Volume I &II Cades Cove Preservation Association .
Tipper