The Deer Hunter and I have been talking about growing mushrooms again. The logs we inoculated back in 2010 had a nice long run, but they're pretty much gone. If you missed our whole mushroom project check out the post below that was published in March of 2010 here on the Blind Pig and The Acorn.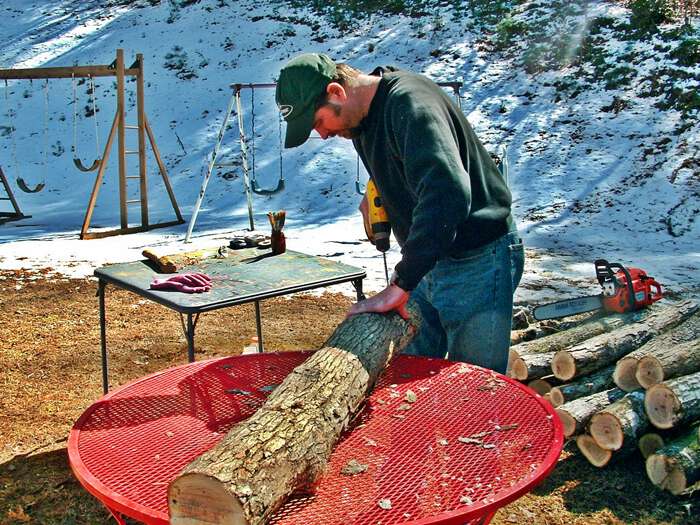 I first read about growing mushrooms in a Carolina Country magazine a few years ago. If I remember accurately, the article was detailing how farmers in NC and GA had a new commercial crop to grow-mushrooms.
As a mushroom lover, I was immediately interested, but it sounded like the cost of getting started would probably be to much for me to afford. A few weeks ago I found out I was totally wrong.
I attended a Shiitake Mushroom Workshop held by the Cherokee, Clay, and Graham County Extension Offices. Their guest instructor was Christy Bredenkamp who works for the Jackson County Extension Office. Christy has been a commercial mushroom grower for years and presently grows Shiitakes on a smaller scale.
Christy was an excellent teacher. She is very knowledgeable and has an engaging personality. I do believe I could have listened to her talk about any subject and enjoyed it.
After the instruction portion of the class, each student got first hand experience by inoculating their own log. I left the class knowing how to grow Shiitake mushrooms and knowing I wouldn't have to take out a loan to grow them. I decided I better get on the ball if I wanted to start this year because when growing Shiitakes there is a window of time during which the logs should be inoculated.
Last Saturday morning with snow still on the ground, the Blind Pig family took the first step in growing Shiitake Mushrooms.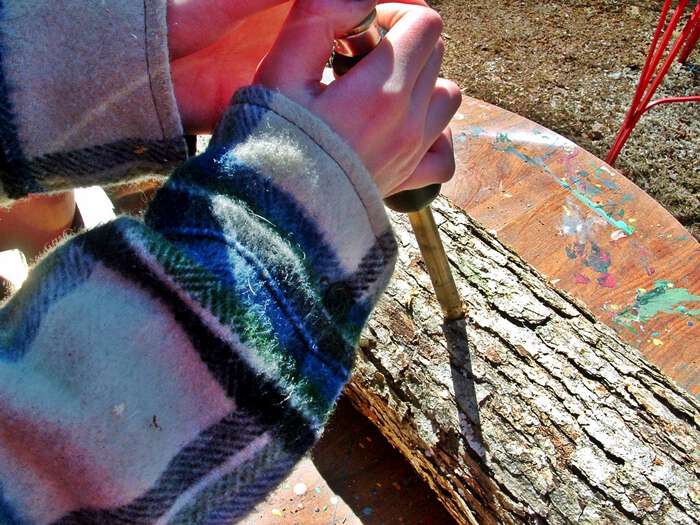 The logs should be cut in late winter or early spring. Anytime between when the leaves turn brown in the Fall through the Winter and up to 2-3 weeks before the green leaf buds come out in the Spring. In other words when the trees are in their dormant stage.
What logs can you use? Christy said Oak are best but success has been achieved by using Sweetgum and hard Maple trees.
After the logs are cut you need to inoculate them pretty quickly. At least within 3 weeks of cutting them in lengths. Some thought should be given to the size of the logs. At some point down the road you'll be handling them as you soak them during the growing season. Large logs will last longer and of course grow more mushrooms, but are difficult for the typical home grower to handle. We took our cue from the class and cut our logs 3 to 4 feet in length and 4 to 8 inches in diameter. You could cut them even smaller if you wanted to.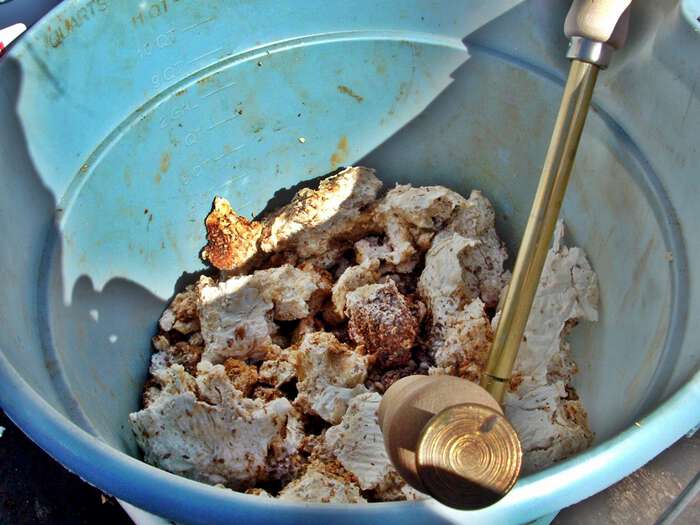 During the class we used sawdust Shiitake spawn to inoculate the log. Spawn also comes in plugs that you hammer into the logs. Wanting to use the knowledge I learned at the workshop we went with the sawdust spawn.
Having an Inoculation Tool makes the sawdust spawn easy to insert in the holes. However, Christy said she had great success by just using her fingers to press the spawn into the holes.
After you get the logs cut-the next step is drilling holes in them. Holes (7/16 inch bit) should be spaced 5 to 8 inches apart down the length of the log and 2 1/2 inches across. You should have several long rows of holes on each log.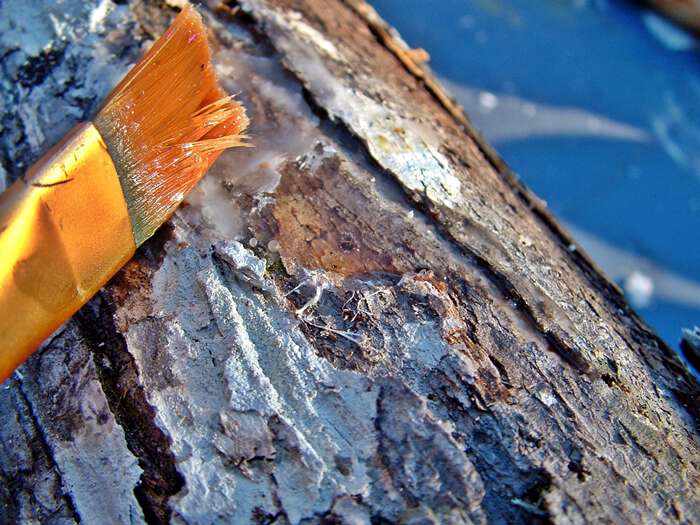 We put our spawn in a bucket to make it easier to work with. You kinda stab the inoculation tool into the spawn until it fills; place it over a hole; press the plunger; and you've just inoculated a log with mushroom spawn.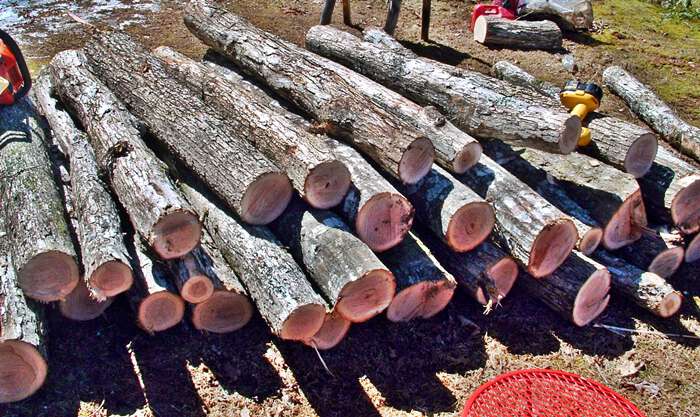 After you've inoculated all the holes, you must seal them with a layer of wax. At the workshop, Christy said it doesn't matter what kind of wax you use. Even candles or bee's wax would work. During the class the wax was melted in an old crock pot. We had a fire going to warm by, so we set a pan on the fire to melt ours. To apply the layer of wax you can use daubers or a paint brush.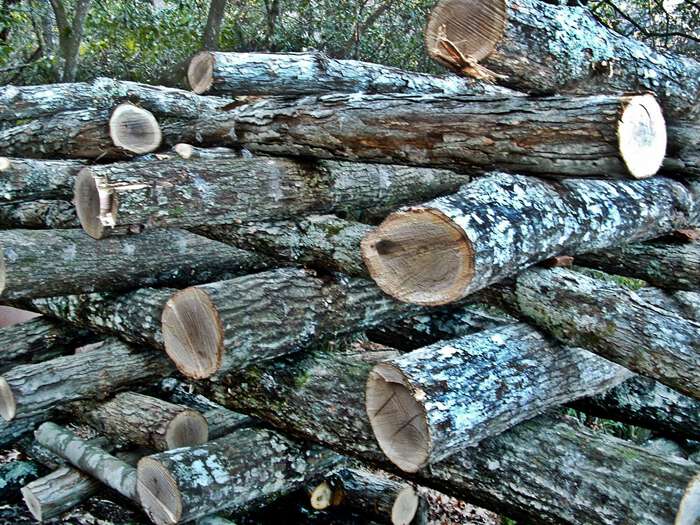 Once the logs are inoculated you have to decide what to do with them. They need to be kept in a shady place, but not under a shed or other structure. The rain needs to be able to reach the logs.
There are many ways of stacking the logs, but the 2 they shared at the workshop were crib stacking and lean to stacking.
Lean to stacking basically means leaning the logs up against something like a wire or fence. Crib stacking is like building Lincoln logs. Christy said she preferred the crib method because once the mushrooms start growing they are easier to harvest beause you can reach your hands in and around the logs. The downside to the crib stack method is you have to lift the logs more.
We went with the crib stack method. When the logs are stacked your'e done. The logs are left alone until it's time for the mushrooms to start growing.
If you live near a water source you might want to put your stack in a shady area close to the water. Christy said the logs need to be soaked during the spawn run, either with a sprinkler or by immersing in water for about 8 hours. This is important because the biggest cause of failure is the logs getting dehydrated. It is also important to let the bark get dry between soakings. (*see update below)
So now you're wondering how long till I have some mushrooms? Well it'll takes a while, at least 6 to 9 months-maybe longer. But once you get them established Shiitake mushrooms will continue to grow on the logs until they rot away, typically 3 to 4 years.
The good folks at MushroomPeople.com have been a huge help to my new Shiitake Mushroom growing venture. Jump over to their site and look around. They have anything you'd ever need when it comes to growing mushrooms: books, instructions, tools, spawn-you can even buy a small mushroom kit that comes ready to grow.
—-
*Update: It was 2010 when we inoculated logs to grow mushrooms in our backyard. We hemmed and hawed over how to submerge the logs and in the end we didn't submerge them at all. Even without the water the mushrooms grew faster than we could use them.  If you live in a dry area or happen to have a very dry year the logs will probably have to be soaked. Maybe ours worked so well because of the unusually wet weather we've had over the last several years.
Last year the logs began to peter out. Chitter wanted to make her own little garden and I suggested we use some of the mushroom logs to border it since they were decaying and growing very few mushrooms. Chitter's garden was a total flop, but by the end of the summer those logs we surrounded her attempt with had produced more than a mess of mushrooms.
Tipper