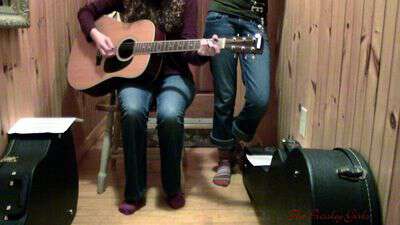 There has been much music around the Blind Pig place over Christmas. For the last several Christmases the girls have made a video full of songs for Pap and Granny's gift-so there was that-because of course we always wait to the very last minute to make it. Then there's been several jam sessions with the cousins while they've been home from Yale. And lastly-one of the girls got a new instrument for Christmas-so there's been much testing of it.
One of the songs the girls chose to do for Pap was Crazy Arms. It doesn't matter how many times I hear Ray Price sing Crazy Arms-it always makes me swoon. Price had a super hit with the song in 1956.
The song was written by Ralph Mooney and Charles Seals. Mooney is often credited with creating the west coast country sound that people identify with Merle Haggard and Buck Owens. You can read an interesting interview with Mooney-by clicking here.
The girls are no Ray Price-but who is? I think they did a fair job-considering they learned the song in about 30 minutes. See what you think.
I hope you enjoyed the song.
Tipper