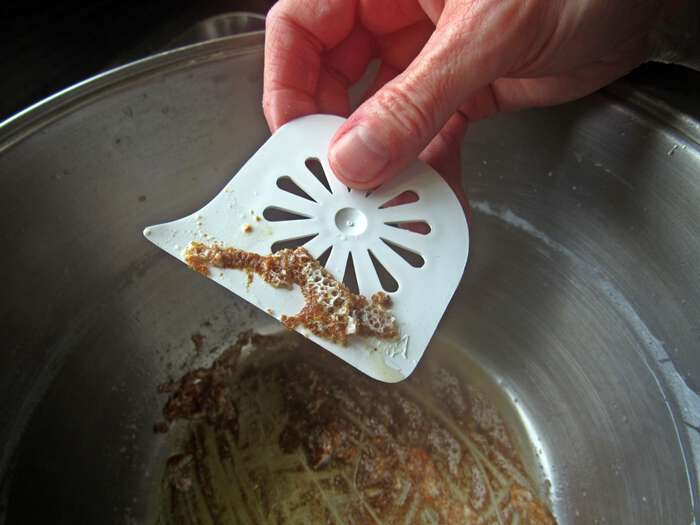 Do you like to wash dishes? I know some folks despise having to wash dishes. Makes me think of Madge and her cure for dishwater hands. Remember her?
I actually don't mind washing dishes. We don't have a dishwasher so we wash everything by hand. There is something relaxing about sticking my hands in hot soapy water as I look out the window. I get a very satisfied feeling when I've washed all the dishes, put up all the leftovers, and wiped down the counters.
Yet, there is one aspect of washing dishes that I don't like…I don't like to scrub pots and pans. If there isn't much scrubbing to be done I don't pay it any mind, but if there's a thick layer of cooked on food I hate to scrub that stuff off and more often than not I'll leave it soaking till the next day.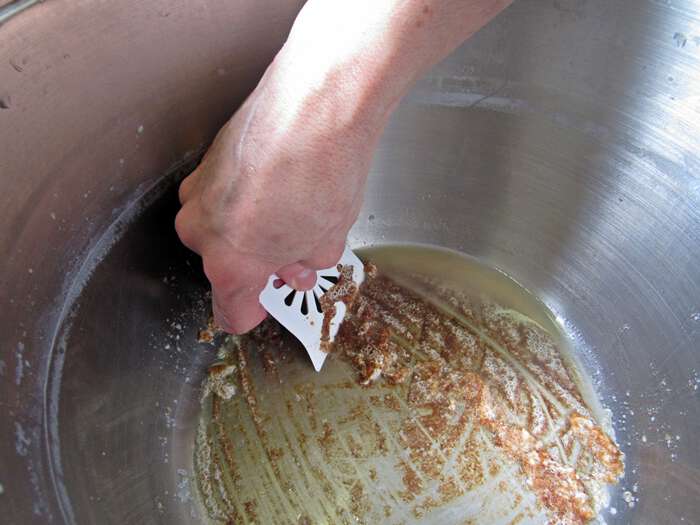 When I think of pots that are hard to clean I immediately think of the one I use to make yogurt in. Even though the milk doesn't scorch, it leaves a thick gum over the entire bottom of the pot.
Did you happen to notice my new white scraper in the photos? Its the Rada Pan Scraper.  This is what Rada says about it:
Pan Scraper
3″ wide by 2 1/2″ tall
Nothing gets pans and other kitchen utensils cleaner than the Rada Daisy PanMate Scraper!

This nylon food scraper is used to help remove food residues from pans and other cookware. They feature rugged edges that scrape even the toughest foods off your pan, making cleaning easier than ever before.

The daisy cut-out design ensures easy gripping, while the corners feature different shapes to ensure that pans of different shapes and sizes are cleaned with equal effectiveness. Hard-to-reach places will be a snap to turn spotless, while other tricky surfaces, such as the ridge around your kitchen sink, will also benefit from the crevice cleaner extended edge. You get two per package, so you'll have more than one handy come cleaning time!
Rada was nice enough to send me a Pan Scraper to try out. I couldn't wait to use it on my yogurt pot. Over the holidays I made more yogurt than usual so I really got to put the scraper to the test-it worked like a charm. And just like the Rada description says, the scraper is also really good at getting into the crevices and ridges that some pans and pots have.
Another thing I like about the pan scraper is using it doesn't make my teeth hurt. Sounds silly uh? I know it sounds weird but using a metal scrubber on a metal pot or pan makes my teeth hurt. Sort of like the nails on a chalkboard feeling.
The nice folks at Rada generously offered a free Pan Scraper to a Blind Pig and the Acorn Reader. To be entered all you have to do is a leave a comment on this post. *Giveaway ends Monday February 29.
Jump over to the Rada site and look around. You can order directly from them-and if your kids or grand-kids are looking for a fundraiser for school events they can help you out with that too!
If you'd like to see how I make yogurt go here.
Tipper