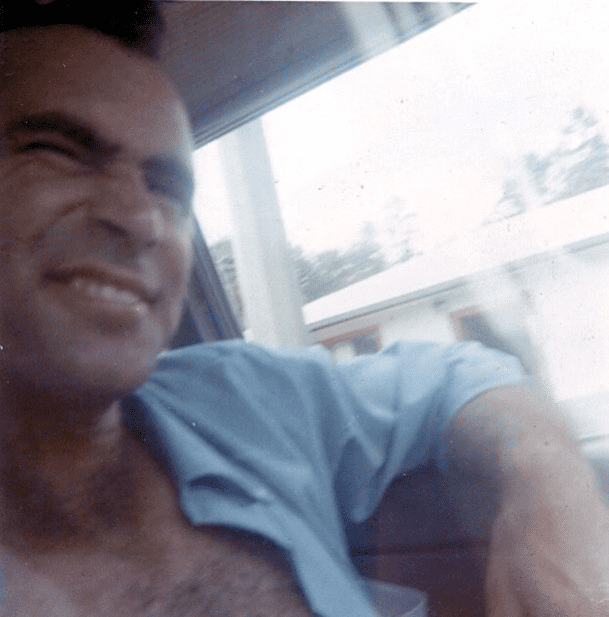 Pap 1970 something.
A few days ago The Deer Hunter and I were watching some silly reality tv show, I believe it was Ax Men. One of the 'tree hunters' is really more of a swamp hunter. I'm sure it was to add to the craziness of the show or to highlight the oddity of his character, but he was shown barreling down the water in a boat shaving with a razor at the same time-only he was dry shaving.
The Deer Hunter remarked "Ouch-that had to hurt!" While he was wincing with sympathetic pain, I was thinking of Pap. Just like in all areas of his life, Pap never thought about spending money on himself-not even for something as needful as shaving soap or a shaving brush.
Seems like it was only yesterday that I could stand on tip toes to watch Pap lather up a bar of Ivory soap then smooth the bubbles across his face-from the tops of his cheek bones to the curve of his chin. Then with sure fast strokes starting at the same spot on the ridge of his cheek bone he wiped it all off with the end of his razor only leaving behind small lines of soap that disappeared as soon as he wiped his face with a towel.
I don't know if it was the era Pap was raised in or a hold over from his days of being a Marine, but I have never seen him with a beard or a mustache. I've rarely seen Pap with even stubble on his face-he keeps it smooth and clean shaven.
Most of the time my brother Steve has a mustache, but every once in a while he'll shave it off.
Unlike Pap, Paul, and Steve, The Deer Hunter doesn't have to shave every day since his beard grows much slower. Oh he wished he did though! I'm secretly glad he doesn't-because if he could he'd grow a beard that ended at his waist.
The Deer Hunter goes from having a mustache-to not having one-to having a goatee-to not having one-to having a beard during deer season-to not having one. In other words he changes his facial hair about as often as the wind blows. The first time the girls seen him without a mustache they cried. Actually they pitched a fit and wanted him to put it back-which of course he couldn't. It was a real ordeal-2 toddlers running through the house screaming, crying, and refusing to listen to us explain anything to them. All over a mustache.
The Art Of Manliness tells you how to shave like your Grandfather did-go here to read about it.
Want to make your own shaving soap? Check out these links:
And please if you make shaving soap or have any other tips about shaving leave a comment about it.
Tipper