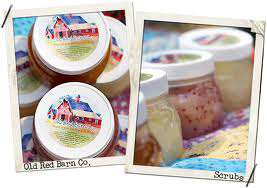 Did you know you could clean yourself with sugar? I didn't until my friend, Dana, told me.
When Dana and I first met she told me about her soap making business, but when she told me about her sugar scrub I was a little confused. I said "How could you clean with sugar? Wouldn't you get all sticky?"
I happen to be visiting Dana's booth at a local festival when she told me about her sugar scrub. So she said "Here try some. Rub it all over your hands really well and then I'll rinse you with water."  (Dana will do that for you too if you visit her booth-her booth is very cool)
Anyway-Dana made a believer out of me-sugar scrub leaves your skin feeling great and it does indeed clean your skin. I asked Dana to tell Blind Pig readers about her sugar scrub, and she generously donated a $20 Gift Certificate for her Old Red Barn Co. Store for me to use as a giveaway. So read what Dana has to say, and then stick around for the giveaway details.
Dana:

When my girls were very little I started making soap. Mostly because I had studied up on the awful ingredients in skin care products and figured I could make something better. The sugar scrub came about much for the same reason. I didn't invent the idea of sugar scrub. You can go to any mall and find dozens I'm sure. I just wanted a more natural alternative to what can be found in stores.

Sugar scrub is great because it exfoliates and moisturizes all in one step and you don't need any other lotions or creams when you're done. Lotions are loaded with preservatives and making sugar scrub is my way around using all those preservatives on my skin. Sugar is the world's finest natural abrasive. Rub the scrub on moist skin and rinse. The sugar scrubs away the dry skin – while the oils in the scrub moisturize and leave you silky smooth all day long.
———————–
Wish you could try Dana's Old Red Barn Co. Sugar Scrub? Leave a comment on this post for a chance to win a $20 Gift Certificate for Dana's Old Red Barn Co. Store. (*Giveaway ends on Monday July 15, 2013)
Tipper