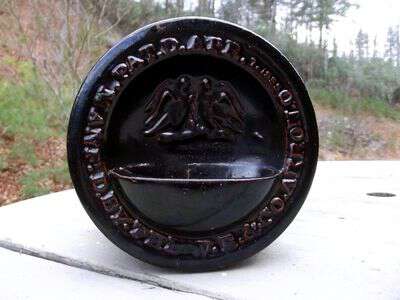 Everyone who guessed the mystery item was a chicken feeder/waterer was correct. The sweet lady, who gave it to me, said she was told it was used to feed buttermilk to chickens. When she asked why you'd want to feed buttermilk to chickens-she was told buttermilk kept them from getting parasites.
The piece looks as if it was handmade-the lip is thicker on one side than it is on the other. But the lettering and birds make it look like it was mass produced-but then did they mass produce things in 1885?
Jon Freis who runs the American Wild Turkey Hunting Dog Association found the following information about the company that made the chicken waterer:
The early history of Robinson-Ransbottom is complex. The company began as Johnson, Whitmore and Co. in 1856 in Akron, Ohio. In 1862, the company changed its name to Whitmore, Robinson and Co. Products included Rockingham, stoneware and yellowware. In 1900, the E.H. Merrill Co. merged with Whitmore, Robinson and Co. to create the Robinson-Merrill Co. By 1902, the company became the Robinson Clay Products Co

http://articles.mcall.com/2001-07-08/features/3739989_1_robinson-ransbottom-pottery-roseville-pottery-pieces

CHICKEN WATERER. (with pictures) Ohio, late 19th century, yellow clay. Molded birds and "Manuf.d. by the W.R. & Co. Akron, O. 1885". 6 1/2″d.
http://www.artfact.com/auction-lot/chicken-waterer.-57-c-3ae833c87d
Since we now have our own little flock of chickens what I'm interested in knowing is if you or anyone you know ever fed their chickens milk or buttermilk?
I researched the topic slightly and mostly found contradictory information.
A big Thank You to everyone who played along with the what is it game!
Tipper