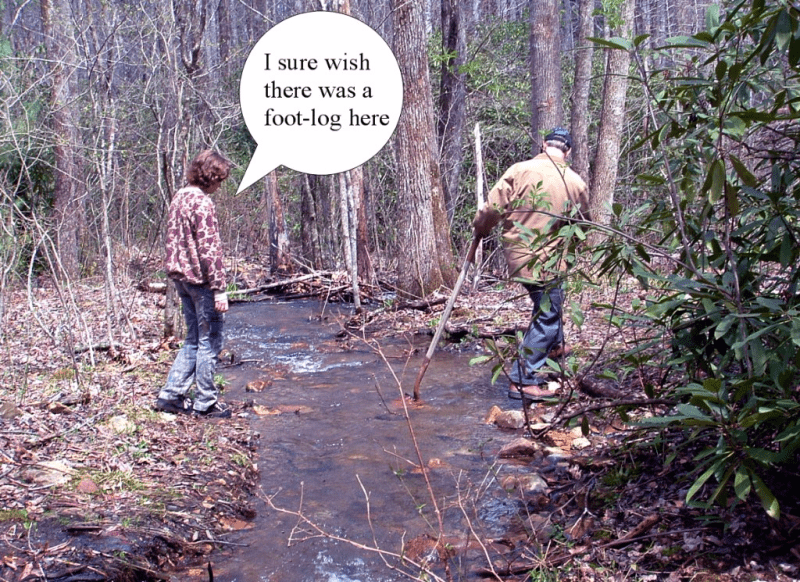 I'm sure you know what a foot-log is, but last night I found out neither of my girls had a clue what the words meant.
Foot-logs can still be found around people's houses and you'll find them along the trails that criss-cross our national parks. But in the modern world we live in, foot-logs aren't as common as they were in days gone by when folks walked most everywhere they went.
As I listened to the girls and their friends last night, I was disappointed in myself. I thought how in the world do my children not know what a foot log is? I felt slightly better when their friend from down the road didn't know either. His Daddy grew up just like I did and somehow didn't manage to convey what a foot-log was to him-so I wasn't alone. I was heartened when the term was explained by one of their other friends.
I always enjoy listening to the group of young people make music, singing the songs passed on by their elders, yet hearing them discuss part of their common heritage made last night's jam session seem especially nice.
And just in case you don't know what a foot-log is Blind Pig reader B. Ruth explains it very well: "Of course the footlog you mean is a log of sorts to help you across the branch, creek, stream to keep from getting your britchey legs wet."
Tipper
Appalachia Through My Eyes – A series of photographs from my life in Southern Appalachia.