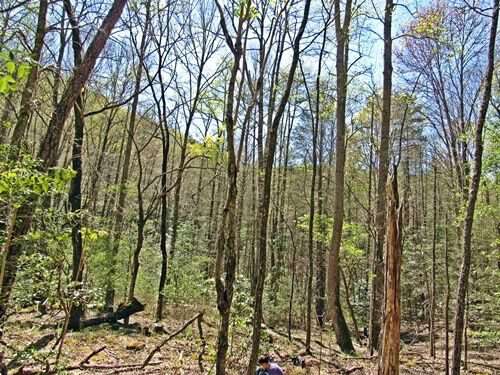 A swag above the house a ways
A few weeks back Ron Stephens left the following comment:
"I wondered the other day if "swag" is in the DSME. Where I'm from 'swag' means in general 'a low place' in the terrain. But that definition does not show up in a modern dictionary."
I couldn't wait to check out the dictionary to see what it had to say about swag. As usual the Dictionary of Smoky Mountain English did not disappoint.
swag
noun
1 A low or level place on a ridge, a gap, as in Big Swag on Round mountain Ridge. Cf gap 1, saddle, sag 1.
1937 Hall Coll. Cades Cove TN = a level place on a ridge. (Labe Myers) 1939 Hall Coll. Mt Sterling NC There's a bear waller in a swag under Spruce Mountain Tower where [the bears] use. 1956 Fink That's Why 3 Here these lower places between peaks and along ridges are almost invariably known as gaps, with an occasional swag. 1960 Hall Smoky Mt Folks 19 Finally he managed to grab hold of [the turkey's] legs, but as he did so, the turkey "riz" up into the air and carried him across a "swag" (gap) to the next mountain and courteously dropped him. 1970 Broome Earth Man 24 [W]e dropped our packs in the low swag and began ascending the steep sides of the "puzzle" mountain.
—-
I've heard Pap use the word swag in the manner that Ron does my entire life. I've also heard The Deer Hunter use the word the same way for oh a good 30 years now. Sort of hard to tell from the photo took last spring, but there's a swag on the right side of the photo.
So as you can see I know all about swags, but a turkey big enough to carry someone off a ways, I'm not sure I want to know anything about that 🙂
Tipper
Subscribe for FREE and get a daily dose of Appalachia in your inbox