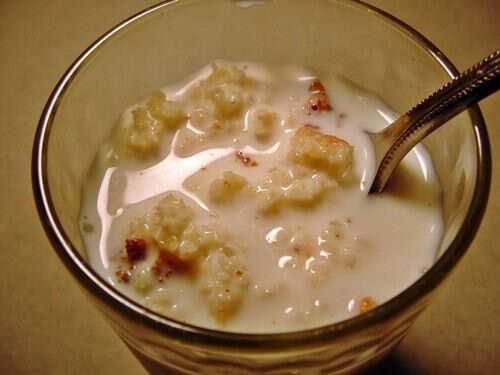 "My friend Elliott Miller was hospitalized. During his recovery, one of the first meals he ordered from the hospital menu was buttermilk and corn bread. He poured his milk into a bowl, crumbled his corn bread into the milk, and ate with relish. I was surprised—didn't he pour his milk over his corn bread? He looked at me equally stunned. "Pour buttermilk on corn bread?" he asked scornfully.
For a…rational intermediary, we turned to this uncle Joe Elliott, who has been eating corn bread and buttermilk since he was a farm boy. He was amused by our dispute. "There were twenty to feed on our farm," he said. "Morning, noon, and night. When the women made the corn bread, they made at least four pans of it. With luck there was some left over when we came home from school."
"We would pull out the largest mixing bowl we could find, and one would crumble the corn bread into pieces and the other would pour buttermilk into it or the other way around. We would take it around the house with spoons for all and lie sprawling out on our stomachs on the ground facing it, all digging into he same bowl, until it was all gone. "
~Nathalie Dupree – "Southern Memories"
—-
Funny how the way we've always done something seems like the only way it can be done…even when it comes to crumbling cornbread. I don't eat cornbread and milk much, but if I did I'd crumble my bread first and then pour the milk over it. How about you—pour first or crumble first?
Tipper
Subscribe for FREE and get a daily dose of Appalachia in your inbox