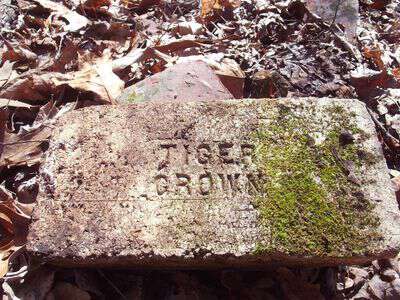 Do you know people collect bricks? I knew folks used reclaimed brick when they built a new house or installed a brick driveway, that sorta thing, but I did not know there were brick collectors until I stumbled upon this site: Brick Blog.
I saw the brick in the photo above at an old home site near Fontana Dam. Curious about the name I googled it, that's how I found out about the collectors.
I should have known I wouldn't find what I was looking for I really didn't need to. The real story of the brick was already in my head.
Back when people were still living in the area having a brick house or a brick anything would have been big doings. I'm positive it would have been something to be proud of having brick around your place.
All I had to do was look around me to see what a fine country that brick had been laying in for the last 70 years. As my eyes looked down through the valley and my ears listened to the creek in the distance it seemed I could hear the men gathered round at the nearest store: discussing the new brick house; talking about the corn in the field; worrying about the war raging in a foreign land and heart broke over being asked to leave all they'd ever known for the good of the rest of the world.
Tipper
Appalachia Through My Eyes – A series of photographs from my life in Southern Appalachia.