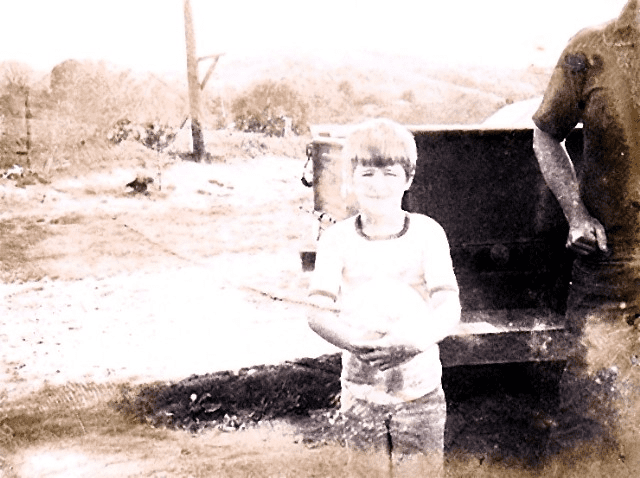 Spending any amount of time at the VA Hospital in Oteen makes one think of old men.
The hospital certainly serves female vets as well as young veterans…even younger than me. But the majority of the patients are old men. Many are shaky, pale, and sickly.
Sometimes when I walk the out patient halls with Pap I wish I had some sort of story vacuum. Just think, if I did, I could suck up all the stories that belong to those old men. My what a treasure that would be!
The entirety of Pap's recent hospital stay was in the ICU part of the hospital. It didn't seem to be as busy as it usually is somehow, but maybe it was.
You can't help but notice the other patients.
There was an old veteran to the left of Pap's room. I don't think he even knew where he was. I'd wager he was spending his last days on earth right there in the ICU. I never saw anyone visit him and that made my heart hurt.  I could hear the nurses as they talked to him. I guess he was nearly deaf because they had to yell at him to get him to hear. I was comforted by the love and compassion every last nurse showed for him. In this case, I could literally hear it in their voices.
Another one was there because he'd overdosed on meth. He wanted to know if Pap worked there or if he was the Chaplain. The man finally decided it didn't matter who Pap was he just needed him to listen to him talk.
There was a young man suffering from the same heart problems as Pap. I never saw him, but his family told me shoveling all the snow that Asheville got last week brought on heart pain that resulted in bypass surgery. I tried to comfort them by sharing Pap's story.
Pap was 42 years old when he had a triple bypass. Six weeks later Pap was back at work. Those bypasses cured him for the next 25 years. The Deer Hunter likes to tell people about how Pap was in his 60s when they worked together building houses. The Deer Hunter says "Even though I was a young man and Pap was in his mid-sixties he worked circles around me every last day. Why at the end of a long hard day he'd pull sheets of plywood up on the roof of a house when I could barely get them above the fascia board."
We've always been pleased with the nurses and doctors at the VA Hospital. But this time, they just seemed extry speciaal as Pap would say.
I'm convinced the 2 docs that cared for Pap could head off to Hollywood to be in the movies if they wanted to be. Two very powerful, kind, knowledgeable, women who just happen to be beautiful in two completely different ways. When I called their name Pap would say "Now is that the one with the amber eyes or the one with the black hair?"
His nurses were just as special. I wish I could remember each of their names because they were all great. Nancy took care of Pap like she'd known us our whole lives. We finally decided she seemed like family because she reminded us both of Nina Chastain.
There was a night nurse named Dewayne. He told Pap to call him De-wayne and encouraged Pap to get through the night time pain and worry of being in a hospital. Pap told him "Son you've got a good spirit that's helped me through this." It was easy to see that statement probably pleased De-wayne more than his next paycheck would.
I set in Pap's hospital room and thought about the old men in the VA, the song Desperados Waiting for a Train came to mind. There's a line in the song One day I look up and he's pushing 80. As I sung the song in my mind that line made me realize Pap is pushing 80 too. He'll be 79 in July. Even though I know Pap is an old man, I'm sometimes surprised by the fact.
I first shared Pap and Paul's version of the song Desperados Waiting For A Train back in 2013. Guy Clark wrote the song. If you've never heard it, the song is about the relationship that occurred between a kid and an old man.
According to his website, "Guy Clark was was born in Monahans, Texas, on November 6, 1941 and grew up in a home where the gift of a pocketknife was a rite of passage and poetry was read aloud."
Desperados Waiting For A Train grabs your heart from the first line: "I'd play the Red River Valley He'd sit out in the kitchen and cry."
Clark wrote the song in the late 1960s about an oilfield worker who stayed at his grandmother's hotel. The song was most notably covered by The Highway Men.
I hope you enjoyed the song-I thought you might like Pap's ad libing at the end. The song makes me think of:
learning to play Red River Valley on the piano-how one note seemed sweeter than all the others
sitting in the kitchen making music with Pap and Paul
all the people who've sat in Pap's house and made music over the years
Paul telling me I can find the chords in the song better than most of The Highway Men
Papaw Wade and his tobacco
how the snuff Pap used to use would leave stains on his chin every once in a while
A 14 year old Deer Hunter pulling a loaded horse trailer home from Cataloochee because everyone else was too drunk to drive
the old men who visit the VA Hospital in Oteen and the nurses, doctors, and other staff who take care of them
the impression we each make on others-even when we don't know we're making it
Tipper