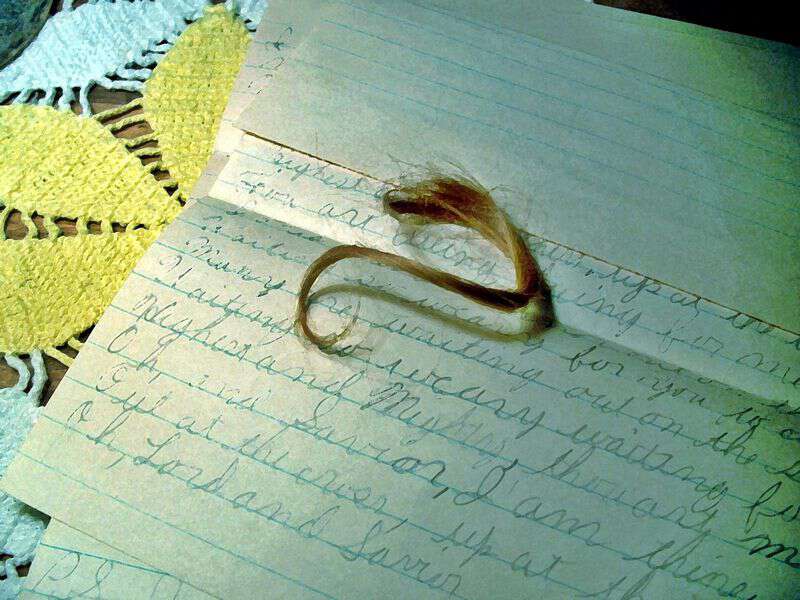 Several months ago, Peggy, a Blind Pig Reader, asked me if I'd be interested in reading a letter that had been handed down through her family. It seems to have been written to folks who lived in my county near the town of Andrews. Peggy said reading W.C. Penland's Civil War letters reminded her of the letter in her possession.
The letter was written by Susan Lunsford and her husband, Mat Lunsford. Susan was Peggy's Great Great Grandmother's sister. The letter touches me on so many different levels. Give it a read and see what you think.
—————–
January the 23 the 1870
Dear father and mother i this evin seat my self to drop you a few lins to let you no that we are all well at present hopin my few lins will come safe to hand and find you all enjoyin the same blessin and to let you no that I have got a fine boy I call him Jousep Henry after his Granpap Pendergrass he was borned October the 4 1869.
Whet is 20 cents per bushel corn is 3 dollars a bushel we have got 69 bushels of corn. We have kild one hog that wade 3 hundred and 48 pounds at 18 teen months old an one we didn't way and I got one to kill that will go about 2 hundred and fifty and got 18 hogs left We have 2 cows one will have a calf in March the other I don't know when we have settled down her to stay 2 years or longer if we want too but I git more and more dissatis fide ever day if I was back in ole north Carolina I never would say Mat less move again. tho we have plenty to do us this year and plenty more comin on for another year but what satisfaction is it to me if I ain't satisfied and all that dissatisfides me is to want to see my old father an mother and can't I want to see you all I want you all to writ as soon as you git this letter not one but all
Susan Lunsford
Margaret I want you to write to me one time if you pleas if you hant for got that that you ever had one sister called Suzy. Nin and forn and rocksy and lasy all drop me a few lines I would take grate pleasur in readin a few lines from you all tell Jissy Baldwin and Joy to write to me I will send pap and mother a stran of little francis hair I send the girls some scraps of our dresses but if you have forgot my name look at the top of the letter I will write you my name in full I will close so no more at present only I remains your child till death I still remains you sister so good by to you all from Susan Leunsord to her ole father and mother to her sisters all so
A few words from Mat to let you no that I am well and well sadisfide and tryin to do the best I can suzy has got dissadisfide here lately she sez she would be sadisfide if she could sho nanny and pap her fine boy the resen I am satisfied I recken is am so much like the … ???… Bill an his family is well we live about half mile apart we have rented land and both work to gether this year we have sod ten bushel of wheet and hay all it makes free of rent 30 achorks (acres) of lan to tend in corn four acres to tend in tobacco you might not think hard of me for not ritin no sooner for we was a while that we did not no wether we would go on or stay her as soon as we got our minds settled we had to build our cabins to move in too I thought it would be no use to rite till I got settle we have made a contract for 2 year I would like for sum of you to come and see me next fall I will send you a way bill to come by if you node the situation of the country you would be willing to leave north Carolina tomorrow. Susan hole study is on the friends that is left behind it is true I would like to see you all but my mane study is to do the best I can for my self and family I pass off the time at work through the day at nite I nurs my too baby for pleasure so I take up no time in idles I will close for this time so no more at present only remaining your son till death. From M.M. Lunsford to his father and mother write soon and fail not.
—————–
What I liked about the letter:
The similar phrases used by the Lunsfords and W.C. Penland– "at present only remiaing your son till death", "I this evin seat my self to drop you a few lins to let you no that we are all well at present hopin my few lins will come safe to hand and find you all enjoyin the same blessin", and "I will close so no more at present only I remians your child till death."
I love how Susan gives them a hard time about not writing her. She tried to shame them into writing her by calling out their names, and she even went so far as to say she'd write her name at the top of the page just in case they have forgotten it! She must have been a spitfire.
I like the contrast between what she writes and what her husband writes. Through his words you can feel the determination that he is going to make it for his family. And from her words you can hear how much she misses her family and her North Carolina home.
Susan missed her family, but she mostly wished they could see her boy that she was so proud of. She tells them she will send a stran of little Francis's hair. Makes me wonder if she sent the hair and if her family passed the little strand around and talked of how they missed little Francis and of how there was a fine baby boy named Jousep Henry who they might never see but would love from afar.
Tipper
This post was originally published here on the Blind Pig in 2010.