One of the things I wanted to do on the Blind Pig during 2014 was to complete the story of civil war solider W.C. Penland. I shared part of a series of letters written by W.C. but somehow never completed the series. Since a few years have passed since I shared the letters, I decided it made more sense to start completely over and hopefully offer more civil war information along with the letters this time around.
The Penland Historical Society has graciously allowed me to share the following history of W.C.'s parents which was printed in their February 1987 bulletin. The piece offers a slight peek into W.C.'s family history.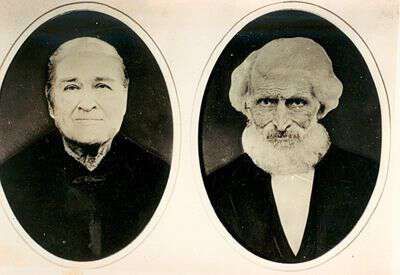 Patience Mahalia Moore and Harvey Monroe Penland 
Harvey Monroe Penland Family
The Penlands are of Scottish descent. In America we find them first in Massachusetts and Pennsylvania. Harvey Monroe Penland was a grandson of Robert Penland who came to North Carolina from Pennsylvania about 1768 to what is now Burke County. Robert's son George migrated west to Buncombe County; then Haywood County, where Harvey Monroe Penland was born on Sept. 12, 1812. When Harvey was about 10 years of age; George moved his family again; this time to Macon County, to a community called Otto, a few miles south of Franklin towards the Georgia Border.
Harvey grew up on this farm as the oldest boy in a family of nine children. When he was thirty years old on Oct. 11, 1842 he married Patience Mahalia Moore (b. Oct. 10, 1820 d. Apr. 15, 1903). Patience was the daughter of John and Susan Jones Moore. John Moore's father, Turner Moore, came to America from Ireland, settled in Rutherford County. His son John later settled in Cherokee (Clay) County 2nd District.
Soon after their marriage, Harvey and Patience moved to Camp Creek, 8th Dist. of Cherokee County, near the Tennessee state border, where Harvey had bought 711 acres of land in 1840. William their oldest child was born there on Oct. 23 1843. Harvey soon moved to another location known as the Rex Sellars Farm, which was near his father-n-law. In 1845 he bought some land in Dist. 2, and in 1855 he bought 300 acres from his father-n-law, John Moore. In 1856 he was having a new house built on the north side of Shooting Creek in what is known as the Elf Community. (This house is now 130 years old and still being used by his descendants) Soon after he and Patience moved into their new house the War between the States began. Their oldest son William Chamberlain, age 18, enlisted in the Confederate Army, Co. F, 65th Regiment of the N.C. Troops (6th Regiment N.C. Calvary). Capt. William Moore, Rachel's nephew, was in command of the troop. William died on Aug. 3, 1863 of a fever, and is buried near Clinton, TN.
Harvey and Patience had thirteen children. Nine grew up to marry and raise families of their own. For wedding presents each was given land valued at six hundred dollars (or was given that much in cash). In addition they were given a horse with saddle and bridle, a cow, two sheep and a sow. The daughters were also given a sewing machine, candle stand, and cedar chest.
Their children were: William Chamberlain, Oct. 23, 1843 – Aug. 19, 1863; Mary Susan Dec. 9 1844-1886, md William J. Marr; James Hanibal, Mar. 12, 1846-1889, md Fanny Johnson; Charles Newton, Feb. 21, 1848 – Nov. 3, 1898, md Margaret Jane McClure; George Wylie, Dec. 3, 1849 – Nov. 13, 1931, md Nancy Williams; John Alexander, May 28, 1851 – Nov. 16, 1920, md Sallie Truett (sister of Dr. George W. Truett); Margaret Julia, b. May 8, 1853, md Will Rogers; Sophia Elizabeth, Mar. 7, 1855 – Feb. 19, 1937, md Bud Dillard; Robert Norbonne, Sept. 25, 1856 – Mar. 4, 1944 md Arie Virginia Patton; Luola, Aug. 8, 1861 – July 6, 1925, md Burgess Patton.
Harvey helped survey the first road across Chunky Gal Mountain, and was one of Clay County's first commissioners. He died on August 7, 1889. He and Patience are buried at Union Hill Cemetery.
~Penland Historical Society; Bulletin 3; February 2, 1987.
—————
There are a few discrepancies in the history-such as the date of W.C.'s death. However I left the history as it was written. I believe August 19, 1863 is the correct date of W.C.'s death.
Tipper