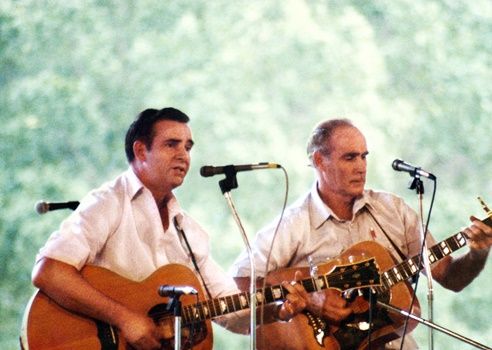 The Wilson Brothers
In the early 90's Douglas Day, who was the Folklorist at the John C. Campbell Folk School at the time, nominated Pap and his brother for a grant from the NC Arts Council. The grant was approved and Doug Dorshaw (spelling) came to Brasstown to make a recording of them. The song I'm sharing today is taken from that album, which was entitled "I Believe in God," (one of Pap's original songs) and appeared on Cloudland Music. The photos that appear in the video below are from an article that appeared in the "Old Time Herald." Douglas Day wrote the article.
The attention that Day drew to The Wilson Brothers' music eventually resulted in them winning the NC Folk Heritage Award, which was also awarded to Arthur "Guitar Boogie Smith" on the same night in Raleigh, NC in 1998. Smith co-wrote Dueling Banjo's with Don Reno.
Paul
I hope you enjoyed the song! Although we've always called the song "Careless Soul" according to hymnary.org the true name of the song is "Prepare to Meet Thy God." The song was written by James Henry Stanley (1869-1954). Stanley's life was centered on music. He was a band director, a songwriter, and a singing school teacher. At his death he lived in Saltillo, MS. "Prepare to Meet Thy God" was Stanley's most popular song. The Pressley Girls have recently added the song to their line-up.
Tipper
Subscribe for FREE and get a daily dose of Appalachia in your inbox