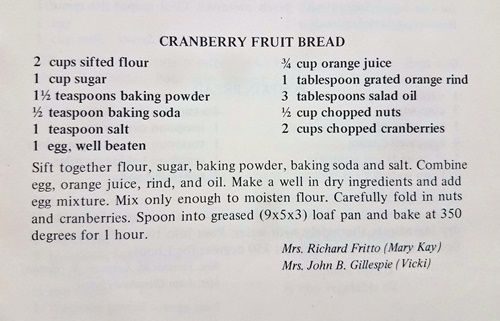 Do you ever get in the habit of eating the same thing? Lately I've been eating a piece of toasted bread (of the sweet variety), an apple, a slice of cheese, and a slice of some sort of meat for dinner. I've pretty much been eating the simple meal since Christmas and haven't gotten tired of it yet.
I've made honey nut bread, Christmas bread, and Ann Applegarth's Irish Soda Bread. Over the weekend I was thinking I ought to switch things up a little and make a different kind of sweet bread.
I headed to my cookbooks and pulled out one of my favorites, "Cook and Love It A Collection of Favorite Recipes and Entertaining Ideas—Atlanta Georgia."
Its one of those community type cookbooks and was created to benefit the Lovett School. I have no idea where the school is nor what kind of school it is. I don't even know if it's still in operation.
I was in 5th grade when Pap had his open heart surgery (three by-passes). Someone else from our area was in the same hospital as Pap was in Atlanta. They gifted Granny with the cookbook while she stayed with Pap during his recovery time.
From the time I started cooking, I was drawn to the cookbook and I believe I used it more than Granny did. After I was married I convinced her to give it to me by telling her she could always borrow it back. All these years later its still one of my favorite cookbooks.
I knew it would have a sweet bread recipe in it, and it did. You can see the Cranberry Fruit Bread recipe details above. It turned out very well and now I'm all set for for the week.
Tipper
Subscribe for FREE and get a daily dose of Appalachia in your inbox