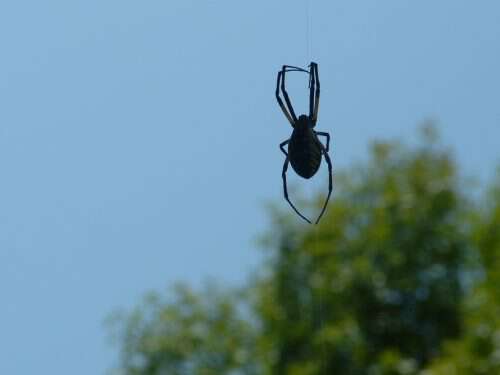 Everyone's afraid of something, when I was growing up it was spiders for me. I couldn't stand them. Almost every time I saw one I'd take off running and screaming.
During late summer giant spiders would build their webs in the eaves of Pap and Granny's house-they especially seemed to like the corners. I dreaded walking by the webs when I was sent to the clothesline by Granny. On more than one occasion I'd feel the string of the clothespin bag on my back and think it was one of those spiders. I carried on so that somebody usually came out to see what in the world was going on.
Chatter inherited my fear. This time of the year-it's hard to hike without walking through spiderwebs. Chatter makes sure she isn't in front but sometimes that isn't enough to calm her fears.
The same kind of big spiders that wove their webs in the corners of Pap's house-now weave around my house.
Folks around here call them writing spiders. An old wives tales says the person's name the spider 'writes' will soon die. Another one advises you should never speak someone's name near a writing spider because you might give them the idea for their next web and hasten the person's passing.
Appalachia is full of folklore about spiders and their webs. Things like:
If you wish to thrive leave spiders alive
If you get too close to a spider-and it counts your teeth-you'll die (seems whoever came up with this one was afraid of spiders too)
If you see a spider on your clothes it means good luck (maybe I shouldn't have run from all those spiders as a kid)
You should go around a spider's web because if you tear it down you'll for sure have bad luck
Spider webs will stop bleeding if applied to a wound
Eat a wadded up spider web to relieve asthma
Stuff a spider web down into a cavity to ease a tooth ache
Soon after I had the girls I overcame my fear of spiders. The Deer Hunter and Pap built our house while I was pregnant with the girls. We moved into the house 3 days before I had them in the month September.
As soon as cold weather arrived all the bugs and spiders that had taken up residence inside the walls, cracks, and crevices began to come out. Each morning I'd awaken to a new group of intruders to do away with. One day I saw the biggest spider I had ever seen in the top of our closet. Too frightened to do anything about it I called Pap to come kill it. By the time he got up here it was gone. For days I worried about that stupid big spider getting on my baby girls or me, but I determined I'd never be to scared to take care of a spider by myself again.
Tipper