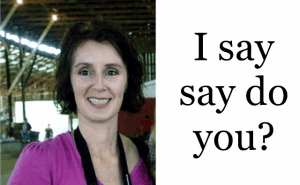 A few weeks ago a coworker mentioned she'd been enjoying my Appalachian Vocabulary Tests. She said even though she wasn't from Appalachia she knew some of the words I shared because her father was from the area.
As we chatted about the test she said "If Dad asks someone something and they don't answer he says "Say?" I said "And you find that odd?" She said she'd never heard anyone else use the word say in that manner. I said "Hmmm you haven't been around me long enough because I say say like that all the time!"
Typical conversation at the Blind Pig house:
Me: What do you want to eat?
Other people who live in this house respond with total silence.
Me: SAY? What do you want to eat?
—————
How about you do you say say?