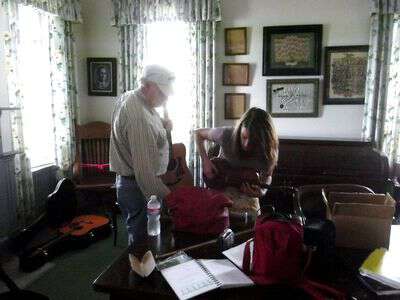 Remember back in August when the Blind Pig Gang performed at the Union County Historical Society and a local tv station filmed us?
The tv station, Ridgeline TV has aired the first portion of our show. The show plays for about 8 minutes-shows a short commercial-plays for another 8 minutes or so-plays one more commercial then plays the rest of the show which is about 7 minutes or so.
——————-
Everyone seemed anxious to know the answers for the riddles I shared yesterday from the book It's Not My Mountain Anymore written by Barbara Taylor Woodall. So here they are:
What's round as a saucer, deep as a cup, the Mississippi River can't fill up? A sifter or a sieve
What has a head, but cannot think? A nail
What is round as a ball, sharp as an awl, lives in the summer dies in the fall? A chestnut burr
Once it was green and growing, now it is dead and singing? A fiddle (I wonder if this one is from the days of making a fiddle from a stalk of corn)
What goes to the water but cannot drink? A cowbell
What has four stiff standers, four down hangers, two lookers, two crookers, and one switchabout? A cow
I've almost reached the end of my series on Barbara and her book-be sure to stick around for the giveaway!
Tipper