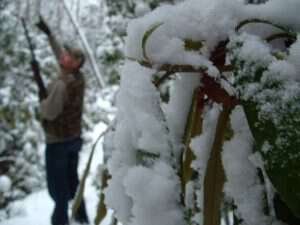 On our first hike in the snow, The Deer Hunter ever hoping to see some sort of game was intent on seeing what animals had been out and about in the snow. While I looked in wonder at the snowy landscape and took lots of pictures, he looked for tracks. Apparently the only thing brave enough to venture out were rabbits.
The snow was still coming down while I snapped pictures and he examined the snow.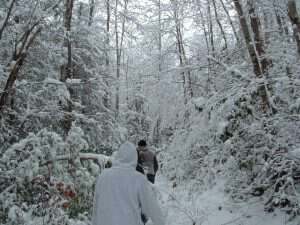 Fast forward to the hike the following day when the girls went along too. The snow had stopped falling except for a few stray flurries and it was much colder than Christmas day.
The Deer Hunter told the girls there'd be more tracks in the snow to examine today "Just wait and see he said."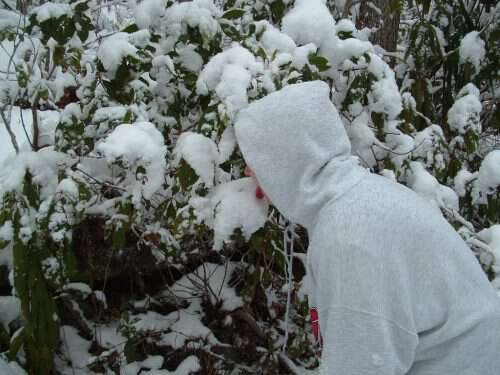 From the beginning it was hard to keep Chitter moving. She kept stopping for a bite of snow claiming she'd never been so thirsty in her life.
We'd only went about 1/4 of a mile when The Deer Hunter excitedly pointed out some tracks near the side of the trail to the girls. At first glance he thought they were bear tracks. As we walked into the woods following them a little ways he said "You know I hate to say this, but they look like cat tracks". I said "Well so what? We know there are bobcats here." He used to have a trail cam set up above the house and got some pretty neat pics of a bobcat along with bear and deer. He said "No they're too big for a bobcat." Then he pointed out where you could see whatever it was had jumped several feet and then took off farther up the creek.
As we all stood there contemplating the theory of a big cat living above our house a big gust of wind came and blew the snow from the trees down on us. The girls and I started screaming thinking something was after us. The Deer Hunter told us "Calm down and quit acting crazy it was just blowing snow."
We climbed back into the trail and continued on our way. Just a little ways ahead of where we were, you come to the proverbial fork in the road. Taking the left leads you farther up the mountain while the road to the right circles back along the ridge opposite to where we'd just walked. The day before The Deer Hunter and I took the right fork and we wanted to again because I lost my hat somewhere along the way on the first trip.
But first we decided to walk a little ways up the left fork, at least to the big curve it makes. As we stood around in the curve getting ready to head back in the other direction The Deer Hunter noticed the tracks again. Whatever had been spooked earlier on the trail had come out of the woods in the curve, crossed the road and kept getting it, or so we thought at the time.
Check out this short video I took while we stood around and pondered the tracks.

The mysterious tracks were soon forgotten as we continued our hike and marveled at the beautiful snow. We told the girls to soak it up because a White Christmas is unusual.
Then suddenly The Deer Hunter saw the tracks again. They had come down from above the road and went off the other side. Another few hundred yards or so and the tracks showed up again, at which point The Deer Hunter said "You know if it is a big cat it looks like we jumped it yesterday and then it circled back and followed us back to the house. We'll see if we see any more tracks." And we did. Ever so often on the rest of the way home we'd see where whatever it was criss-crossed the road over our tracks from the day before.
I couldn't wait to get home. I just couldn't wait to ask Pap what he thought about a big cat being up there. As soon as we got home I called him. He said "Well why wouldn't there be? People have seen'em for ages in and around the area. And The Deer Hunter knows what tracks look like he's been hunting since he was a boy." Then he went on to tell me a story E.J. Whitmire told him.
E.J. owned the huge cattle farm that we live behind. He told Pap a cougar had killed one of his calves and while he was looking at the dead cow he saw the cat sitting in a tree licking it's paws like a house cat. Then the big cat jumped down and took off through the woods.
I've been hearing about 'painters' since I was little. About their screaming and about them carrying off cows, hunting dogs and other farm animals. Reminds me of Charles Fletcher's The Panther On Cold Mountain. The stories about painters living in western NC were alive and well when he was a boy too.
There are 2 sides to the question of whether mountain lions are in Western NC. The first side claims they know what they seen and the big cats are here. The second side says most folks who say they seen a mountain lion really saw a house cat, a dog, or a bobcat. To read about sightings check out this site: Mountain Lion Foundation. The Locavore Hunter has an interesting post about the existence of mountain lions in VA. He believes they exist, but that they are not the native Eastern Cougar, but exotic animals set free by pet owners who decided having a full grown cougar for a pet wasn't such a good idea after all.
As for me, I'm a believer because I have my own 'seen one' story to tell. When I was in 7th or 8th grade Pap, Paul, and I were going to Franklin. I was sitting up front with Pap and Paul was riding in the back. Just before you start up the incline to where you turn off to the Standing Indian area a mountain lion crossed the road in front of us. It was broad daylight and Pap and I both seen it. Poor Paul was bent over tying his shoe and missed the whole thing.
The big cat looked just like what you see on tv-brownish yellow with a big long tail. To say Pap and I were excited is an understatement-we were in total amazement.
Back in the day, not long after I met The Deer Hunter, I told him about mine and Pap's painter' sighting. He laughed and said we probably seen a house cat or a bobcat. After all these years he still doesn't much want to believe me, but after knowing Pap for the last 20 years he can't dismiss the fact that Pap seen it too, and Pap most definitely knows the difference in a bobcat and a mountain lion.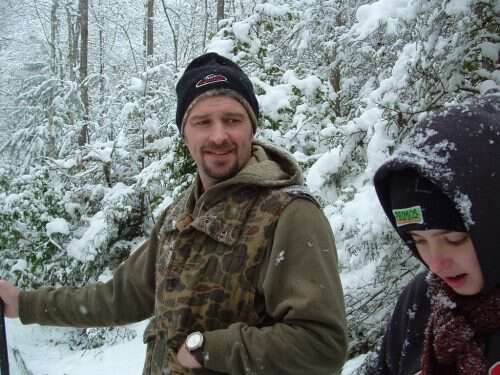 After I told The Deer Hunter that Pap said he didn't see why there couldn't be a big cat up the creek, he said he'd changed his mind there probably wasn't any mountain lions in western NC. I said "What?!!" He said "If there were some hunter would kill one. There are too many people hunting to not see one and shoot it sometime." I asked him "Then what were the tracks we seen up the creek?" He said well he wasn't sure about that.
So how about you-do you think there are painters living wild in Appalachia?
Tipper