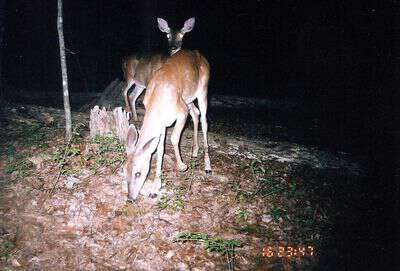 When I was growing up deer were so rarely seen that when you did catch a glimpse of one you felt like you'd seen a zebra.
Every Sunday after church we'd go to Granny Gazzie's to eat dinner. We traveled along Hedden Road which wasn't paved in those days. One Sunday we saw a deer standing near an old barn. That is my only memory of seeing a deer when I was a kid.
Today I rarely drive through Brasstown without seeing at least three or four deer, sometimes as many as twenty in one field alone.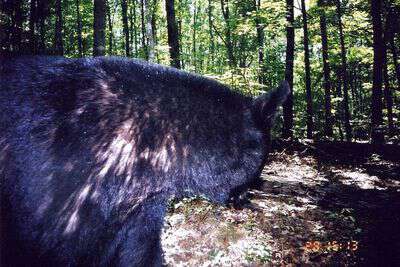 While seeing a deer when I was young was rare, seeing a bear was unheard of. Oh you might hear about bear hunters getting one in Nantahala or Fires Creek, but you didn't hear about bears being seen around people's house like you do now.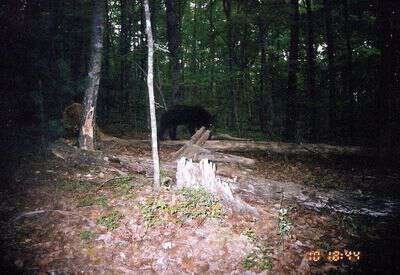 One day when the girls were in first grade, a little boy I babysat and I were home alone when I heard our little beagle Wilma start barking up a storm. Just to make him laugh I was saying silly things like "Wilma you better hush up-what are you barking at girl?" When I looked out the window little Wilma, who weighed less than 20 lbs, was chasing a big black bear through the yard. Like a dummy I ran out to try and get her to come back, but quickly noticed the bear wasn't paying her one bit of attention. It was like Wilma was of no more concern to the bear than a fly would have been. As soon as it left the yard Wilma came back to the porch, looking at me like she'd saved the day.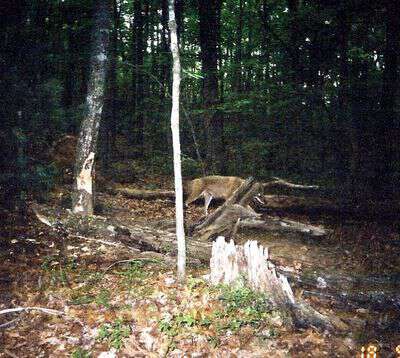 Coyotes were another animal that you never seen or heard of when I was growing up. Now they are a menace to most folks, especially us since they were the demise of our little Wilma. Sometimes you can hear them howling at night on the ridge across from us. It'll make those little hairs on the back of your neck stand up.
After they started preying on the cattle near here one farmer hired people to kill the coyotes before they killed any more of his cows. The same farmer added a donkey to each of his fields too. Everyone said they were to protect the calves from coyotes, but since the donkeys are gone now I'm not sure how good the tactic worked.
All the pictures in this post came from The Deer Hunter's trail camera. Several years ago he set it up about 350 yards above our house. We were always anxious to see what would show up on it when he got the film developed.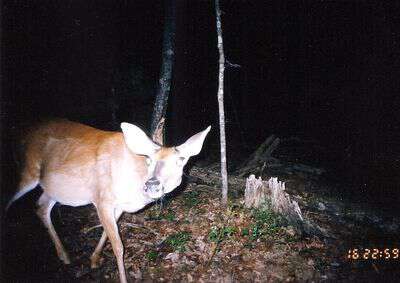 Mostly there were pictures of deer, squirrels, and turkey. But we were surprised by the bear, coyote, and bobcat.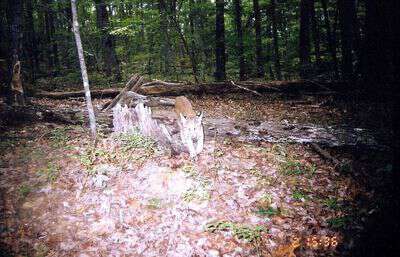 This is the only shot he got of a bobcat. Makes me think it only took the one click of the camera to ensure he never came back that way again.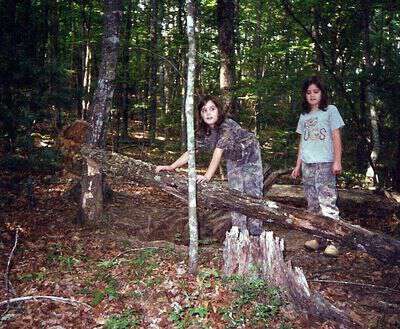 There was usually some funny ones on the camera too-like this one. What were those two doing up there? And there was the occasional neighborhood dog prancing through like he was on a special mission only he knew about.
It was interesting to learn most of you are believers like me when it comes to the question of whether big cats live in areas of Appalachia. Another interesting point some of you made were the rumors that wildlife officials have turned big cats loose, even though they are usually the ones telling folks they seen a house cat or a dog.
After Pap and I saw the mountain lion on Franklin mountain we heard there had been a release of mountain lions in the Nantahala area. It made perfect sense to us that one could have traveled to the Standing Indian area.
The dramatic increase of wildlife in my area over my lifetime is remarkable. I suppose it's due to the decrease in hunting and the increase in people population pushing animals into areas they normally stayed away from.
What about where you live has there been an increase or a decrease in wildlife?
Tipper