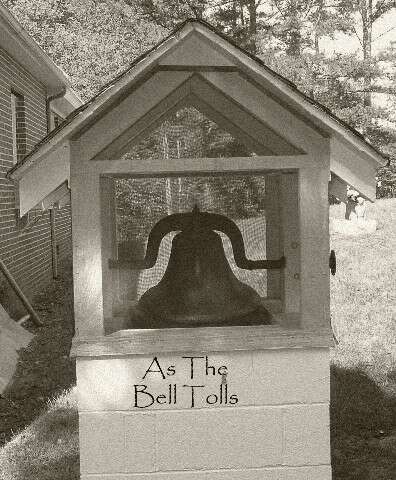 When I visit graveyards I look for old headstones and wonder about the folks who lie beneath them. Customs surrounding death have drastically changed over the last 60 years here in the mountains.
One of the first things to happen after someone died, was the tolling of the bell. The church bell would ring to notify the community someone had died. Traditionally each ring represented a year the deceased person had lived. The number of rings helped folks figure out who had passed away. Pap says he can remember hearing the tolling of the bell to signify a death as a child. Folks who lived too far away to hear the bell were often notified by a letter sealed in an envelope edged in black.
With no funeral homes, the deceased was kept at home until burial. Neighbors, friends, and family would gather at the home to comfort the grieving family. A few would stay all night "sitting up with the dead," this is probably the most well known tradition made famous by Ray Stevens and his funny song. Although I haven't set up with the dead, my aunt, uncles, and Granny were all laid in state at my Granny's house instead of the funeral home. And yes some folks did sit up all night.
Folks pitched in helping prepare the body, digging the grave, and making the casket. Often a piece of rock or a wooden marker was used for a headstone. A huge difference from today's typical funeral home process.
Filling in the grave after burial was reserved for close friends of the deceased.
There are many Appalachian superstitions surrounding death such as:
If a bird flies in the house someone will die
If a picture falls off the wall someone will die (how crazy is this one)
If you hear a screech owl at dusk someone will soon die
Death comes in 3s (3 people out of the community will die in a short span of time)
Mirrors must be covered after a death in the house or whoever looks into one and sees their reflection will die
Howling dogs in the night signify death
If you dream of birth it signifies death
When someone dies-all the clocks in the home must be stopped-to prevent another death
It is bad luck to walk on graves
Pregnant women should never look at a corpse or it will mark the child (when my Granny died I was pregnant with the girls-and was warned over and over about this)
Bees carry the news of death
I'm fascinated by how customs and beliefs change over time. Also, makes me wonder if someday folks will look back at today's way of life and scratch their heads over our traditions.
Tipper
If you are interested in cemeteries please check out The Graveyard Rabbits a blogging association dedicated to cemeteries, tombstone transcription, burial customs, and preservation.