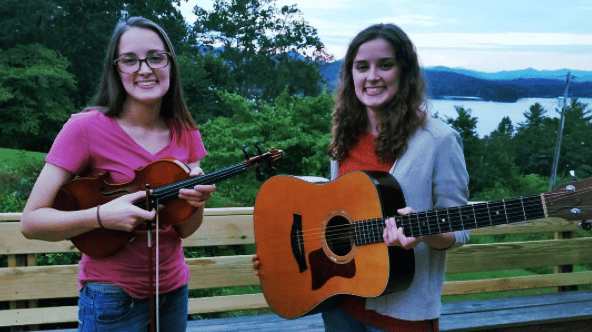 The Pressley Girls – Appalachian Night at the Hinton Center July 2017
As you might guess Chatter and Chitter are fans of other duet harmony singers. Since they grew up listening to The Wilson Brothers, The Louvin Brothers and The Delmore Brothers they have been heavily influenced by brother duets from the past.
Another brother duet they are fans of is the Everly Brothers.
The girls learned one of the Everlys old songs last year and filmed themselves giving it a go. It took them several tries to ever get completely through the song. You'll notice Chitter's exuberant response to making it to the end of the song in the video below.
Since it took them so many times to complete the song, there were more than a few mess-ups  for a blooper reel. See the silliness below.
Since the girls can be hard to understand I'll translate the conversation portion of the bloopers for you.
Already got the hard work done. Fixing my bun for you Paul because we know how I have those bun problems. I want it to look fresh. Oh Lord that looks bad that don't look good. Hold on. That was bad. Typical hair problems. A day in the life of Katie.

My fingers aren't big enough to fit here.

Okay.

Gosh I hope the battery don't die while we're doing it. This little thing really just looks like a piece of junk.

Don't tell momma.

I mean really it could die mid song.

Kapie.

Yes. It's cold in this house so I have to squat to warm my feet.

Bye Bye Love…..I didn't do that because I was crying I did it because I had a Ruby hair on my face.
I hope you enjoyed the harmony and the silliness.
Tipper