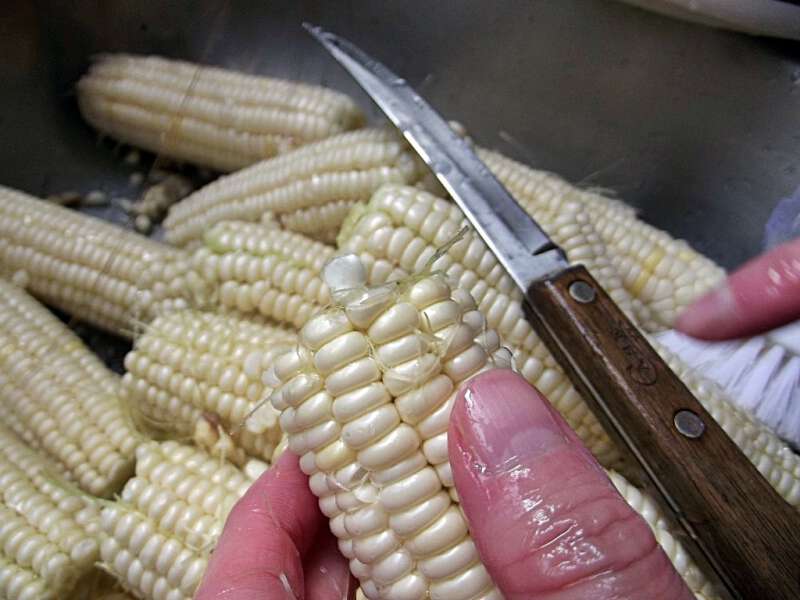 Corncob Jelly – Mountain Cooking by John Parris 1978
Highlands
Elizabeth Edwards, who operates a business with a strictly mountain flavor, has discovered a delectable use for the lowly corncob. She's come up with corncob jelly.
"I got the idea from a story I ran across last fall," Mrs. Edwards explained one day last week. "It was about a man remembering a visit to an old-time country fair. He mentioned that he had tasted corncob jelly. I decided I would give it a try."
She had to start with only the idea. She didn't have a recipe. But being a master hand at the art of canning and preserving, she set out to do a bit of experimenting in her kitchen.
"I had my husband get me a bushel of fresh corncobs," she said. "They were white corncobs. I boiled them, poured off the juice. Then I worked the juice up into a jelly. It was clear, almost pure white, but tasty. I figured it ought to have some color, so next I tried it with red corncobs. They worked out best."
She tried it on some of her friends without telling them what it was, and they went wild about it.
"It has a taste similar to apple jelly," Mrs. Edwards explained. "But a little more delicate. Those who tasted it wanted to know what kind of apples I used. When I told them it was made out of corncobs they wouldn't believe me."
———————–
I've never even tasted corncob jelly. I've seen it at few fairs and festivals. And a quick google will turn up all kinds of recipes for corncob jelly. It doesn't sound all that appealing to me, but as I said I've seen it around and about enough to know there must be quite a few folks who like it.
Tipper