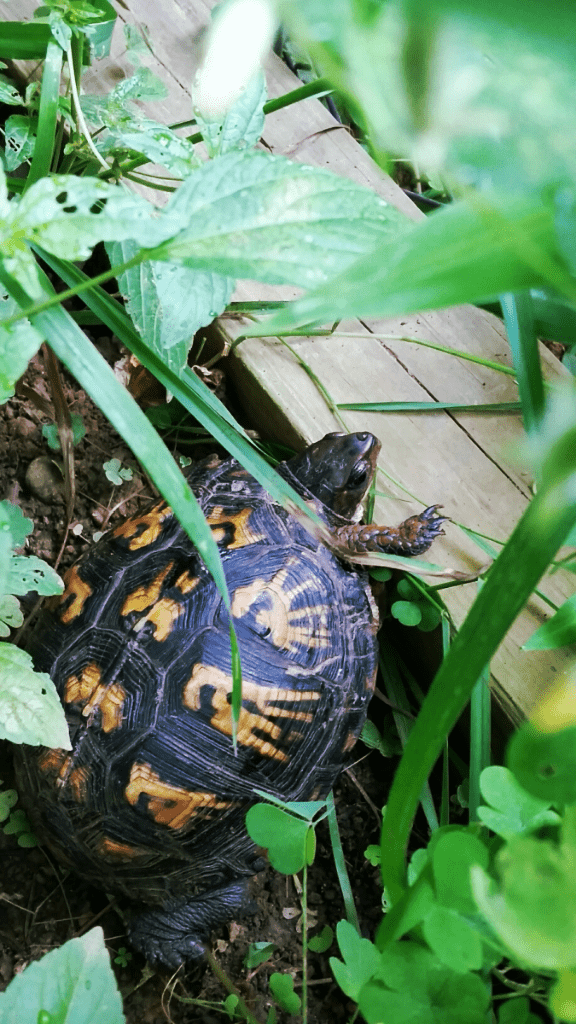 1. The other day Chatter and I was out on the back deck when we heard a large rock roll down the steep bank. We've had a bear hanging around the house so Chatter and I both quickly looked up through the trees to see if the bear dislodged the rock. Once we confirmed there was no bear, Chatter went closer to investigate. Turns out it wasn't a rock at all. It was a terrapin rolling down the bank. Chatter scaled the bank to where he was trying his best to get back right side up. She carefully carried him down to the grass in the yard and set him down feet first. After a short rest he headed straight back up the bank. I guess he knew where he was going all along.
2. Last year we had the largest apple harvest we've ever had. A couple weeks ago I was out picking beans when I decided I'd check on the apples in anticipation of this year's harvest. As I walked closer to the first tree I realized almost every apple was gone. I yelled at The Deer Hunter and asked him if he knew what happened to my apples. He sort of sheepishly said yes and told me squirrels ate them. I said "And you let them?" As he showed me where one of the little devils had dropped an apple in the crotch of a nearby tree, he said he didn't notice they were eating them until he happened to see one scramble into the apple tree and have a quick snack. Since I've been feeling poorly all summer The Deer Hunter has not only took care of the garden he's done almost all of the preserving too. He said he just kept forgetting to do something about the squirrels until it was too late.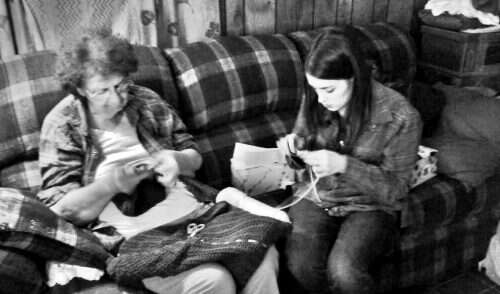 3. About a week ago Granny gave us a real scare. She had been with me all morning and was feeling perfectly fine. I helped her put up her groceries we had just bought as Paul and I chatted. Granny was cooking dinner when I left for home and Paul left for a tennis match. Shortly after we left Granny got very sick. She couldn't manage to get to the phone and ended up sitting in the floor for several hours until my nephew Ben came for a visit and found her. A couple of days in the hospital discovered Granny had a severe UTI which had put a tremendous strain on her heart and sitting in the floor cold, sick, and hurting for hours sure didn't help matters. Granny's on the mend, feeling much much better. The first day she was home from the hospital Chitter stayed with her. Late in the day Chitter called me and said "I know you're going to be mad at me but I couldn't stop her and Granny went to the garden to pick beans. I went right with her and we didn't stay long. I tried by best to stop her but she finally told me to "Quit quarreling at her" so I quit." I assured Chitter I wasn't mad at her. I know well and good that Granny is the most stubborn person on the face of the earth and I was thrilled she felt like picking beans! We've ordered one of those life alert things for her just to be on the safe side. We've also tried to convince her that it might be good if someone stayed with her during the day. Granny said "I can't rest if a stranger is here, why I'd have to entertain them the whole time. And I don't want none of you staying all the time either because I just now got used to being without your Daddy and I don't want no more changes." Granny looked the best she's looked today and I'm hopeful she'll continue to improve.
4. I've shared Youtuber Josh Turner's videos with you before in a 5 Things posts. I've recently fell in love with a video of him and his friend Carson covering James Taylor's Sweet Baby James. It's simple and beautiful. You can go here to watch it for yourself. We've been fans of Josh ever since Paul found him on Youtube several years back. Pap especially liked to watch the expressions he and Carson make while they sing and play.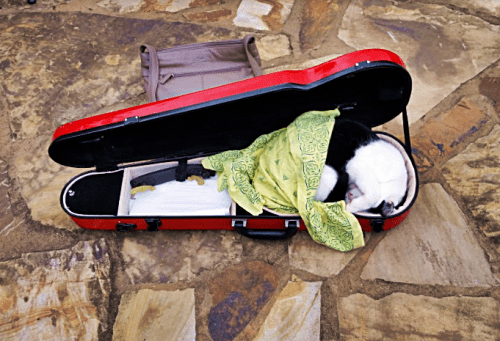 5. Chitter had her fiddle case open at a recent gig in the hopes of garnering some tips. Instead of money she acquired a cat who made itself comfortable and took a good nap while we played.
Tipper