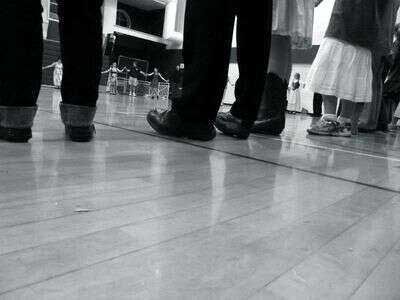 Each year the Mountain Folk Festival offers Saturday morning dance workshops for the attendees. It give the kids an opportunity to learn a new style of folk dancing, a new dance, or both.
The girls took the same workshop this year, and they learned a new dance called Arnold's Circle. The dance was written by a Dutchman named Cor Hogendyk and was originally published in Holland. It may have been introduced to America by Pat Shaw. The mtn folk festival class danced Arnold's Circle to a Canadian jig called Little Burnt Potato.
The girls are wearing their clogging dresses. Chatter has on her trademark cowboy boots; Chitter has on dancing shoes-both have braids.
I love the lightness of the dancer's feet-to me it's part of what makes this type of dancing so pleasing to the eye. While I enjoy folk dancing immensely-I'm no expert on the history, the styles, or even the actual dancing. A couple of years ago I got Bob Dalsemer (a.k.a. Best Dance Caller Ever!) to explain the different styles of folk dancing performed at the mountain folk festival each year. I think he did an excellent job-see if you don't agree:
When we choose required dances for MFF we try for a mix of "country dances" that include mainly American squares (including Appalachian squares) and contras, English country dances with at least one Danish dance and a singing (Play Party) game. Morris, garland, rapper and clog are display dances (rather than social dances) and are usually included only in the workshops and performances.

The term "contra" these days refers to a contemporary form of American country dance, most often danced in two long lines of couples, divided into sub sets of two couples.

I define "country dancing" as follows:

What is "Country Dancing?"

The term "country dance" has existed in the English language for more than 400 years and refers to social dancing performed by groups of couples in a "set." Despite the rustic connotation, country dances were popular in cities and towns as well as rural areas, and were danced by all classes of society. In 1651 the first book of instructions for country dances, The English Dancing Master, was published by John Playford in London and dedicated to "the gentlemen of the Inns of Court," the legal fraternity who were known for their enthusiastic dancing and lavish balls. It described dances in a number of formations (squares, circles, lines, etc.) for anywhere from two couples to "as many as will."

Country Dancing spread in popularity from England to the continent, and thereby to most of the western world. In 18th century England the most popular form of country dance was the "longways for as many as will", while in France the most popular "set" was the four couple square formation, which evolved into the Cotillion, and later, the Quadrille. Remnants of the 19th century quadrilles can be found in the folk dances of Eastern and Western Europe and North, Central and South America, including our American square dances. The English longways formation eventually evolved into today's American contra dances. In fact the term "contra" is derived from "country dance" by way of the French term "contredanse."

At the beginning of the 20th century little was known about England's dance history. English musician, scholar and collector, Cecil Sharp began by investigating folk dancing in England's rural villages. Later, he discovered the 17th and 18th century publications of  Playford and others. Sharp and a group of interested dancers began to work out dances (and their accompanying tunes) from Playford's notations. Thus began a revival of interest in English Country Dancing that continues worldwide today.

In 1915 Sharp visited the U.S. to choreograph dances and arrange songs for a special New York production of Shakespeare's "A Mid Summer Night's Dream." During his stay he gave a number of dance workshops in various cities which led to the founding of the American Branch of the English Folk Dance Society, later to become The Country Dance and Song Society. CDSS has a broad range of interests that includes country dancing in it's many historical and contemporary forms as well as related music, songs and folklore.
———————
I hope you enjoyed the video-and Bob's historical explanation about the dance styles. This past year, Bob was the recipient of the 2011 CDSS Lifetime Contribution Award.
Wish you could see the different folk dancing styles performed at this year's festival? Check out the short video below-made by one of the other moms who went on the trip with us. You can see a sneak peek of Chitter and Chatter's clogging routine in the video-and you can even see me-if you look quick enough near the beginning.
Have you participated in any type of folk dancing? If so-please leave a comment-I'd love to hear about it.
Drop back by for an outstanding clogging performance in the next few days.
Tipper