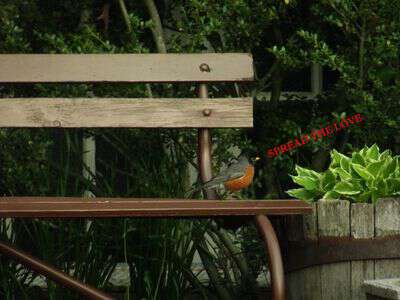 (Photo by Chitter)
Time to Spread the Love for the month of March-I truly thank all the folks who take time to comment on the Blind Pig-you truly do make it a better place to visit!
Janet, Just Jackie, Miss Cindy, Brenda Kay Ledford, Osagebluff Quilter, Warren, David Templeton, Martina, Glenda Beall, Fencepost, Rick's Whitetail Woods, Mary Life In A Cordwood Cabin, Paul Saltcreek, B. Ruth, Vicki Lane, Eva Nell Mull Wike, Ph.D., Wanda, Lynn Legge, Pat in East TN, Jen, Sandra, Sheryl Paul, Kenneth M. Roper, Anastasia, Mike McLain, Nancy Simpson, Mamabug, Kat, Lonnie Dockery, Canned Quilter, Jim Casada, Don Casada, Charline, Bradley, Uncle Al, Teresa, Luann, Ethel, Melissa P Misplaced Southerner, Wanda Devers, Donna W, Janet Pressley, PinnacleCreek, Suzi Phillips, Debby Brown, RB, Pointless Picks, Lise, Mary Shipman, Shirla, Glynda, Sue Crane, Gary Powell, Ed Myers, Sassy, Baking Barb, Charlotte, Elizabeth K, Susie Swanson, Cee, Wayne Newton, NCMountainWoman, Tea4Too, Ron Banks, John Stonecypher, Tom, Tim Mc, Nancy M., Tony Foster, Brenda 'Okie in Colorado, Carol Isler, Bill Burnett, Madge, Kimberly, Ed Ammons, Ethelene Dyer Jones, Patty Hall, Karen Larsen, Janice MacDaniels, Christine, Linda Kerlin, Brian Blake, Alica Happily Married To The Cows, Rechelle, Coffeemuses, Sandy Kalvaitis, Belva, Larry Proffitt, Darlene LaRoche, Jen Y, Judith, Dale Anderson, Ebet, Pamela Moore, John, Marianne, Paul Certo, Paula, Ken Kuhlmann, Bobby C, Bob Aufdemberge, Dolores Barton, Anne, Rachelle at Nanatahala Farms and Nursery, Angie Siddall, Kathryn Magendie, Sherry, Lisa Snuggs, Judy Mincey, Charles Fletcher, Helen G, Sallie Covolo, Garland Davis, Tim Cuthbertson, Tanya, Clint, Nancy Wigmore, Amy Jo Phillips, Granny Sue, Sandy Satterfield, Tammy Fletcher, Danny, Jen, Darlene Debty Kimsey, Nancy, Jo, Carol Killian, Quinn, Kim Campbell, Cyndi, Gerald, Lanny, Steve, Bill Dotson, Granny Pam, John Ratterree , Joy Newer, Susan Casada, Jackie Shound Ringersma, Bob Humphreys, Barbara Gantt, Bernadette Burch, Charlotte Woody, Dan Myshrall, Marylou Sweat, Kay Dallas, Cheryl Soehl, Malcolm, Jessica Puckett, Barb Wright, Nancy Mullen, Crockett, Sam Ensley, Steve Larkin, Bob & Inez Jones, Barbara Daca, Lee Goins, Carynverell, Glenda, Jessie Improved, BF, Jerry in Arkansas, Gorges Smythe, John, SusiCP, Jeanna M, Richard Beauchamp, Byron, Vera Guthrie, Kat, Julia, John Reese, Mike Echols, Jennifer In OR , Jane, Dashel Jamison, Charles Ron Perry, Dorothy, Tammy Davis, Caroline Davis, Dedra C, Don G, Mel, Shirley Templeton Dillistone, Trisha-too, Molly Seaver, JoeDavid Eason, Kenneth Hoffman, Wendell Hobbs, Sandy, Michael, Stevie, Debbie, Laure Clemons, Hockey Anne, Judith Curry, Missy Steiger, Kempie Rackley, Earl Barber, Theresa, Joyce M, Jon Freis, Mike, BJ, Danette Mowery, Kaye Moore, Laura at Laura William's Musings, Kris, Chuck, Khadigah Cashmere, BlueMountainMama, Sherlock, Shirley Tapley, Billy Propst, Robert Loftis, Sherry, Chris Crayton, Miss FiFi, Celia Miles, Nancy's Family History, Michele Langston, Delinda Lea, SpecDut, Dorothy Sanderson, Anonymous Homesteader, Nina Chastain, Laura Cunningham, Karen, Michelle, Lesly, Kipper, Keith Ray, and Mark Lynn Ferguson.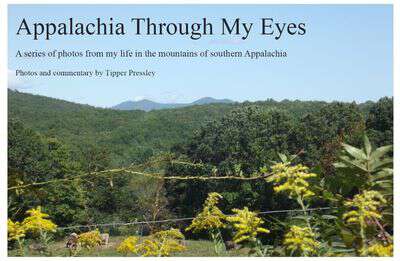 Appalachia Through My Eyes
I got some very exciting news this week-actually it came by way of a Blind Pig reader-NCMountainWoman (THANK YOU).
Rob Neufeld writes a weekly book column for the Asheville Citizen Times-and last Sunday he mentioned my book! Here is what he said:
Tipper Pressley, "on a mission to celebrate the rich culture and heritage of her beloved Appalachian Mountains," alights like a bee on flowers on 25 varied subjects in her photo and facing-page-caption book, "Appalachia Through My Eyes."

Her nostalgia is a living one, for she perpetuates life-ways with her family—her husband, "The Deer Hunter," her daughters, "Chatter and Chitter," and elders in a Brasstown cove. She is a member of "The Read on WNC" social network and website, and the author of the heritage website, "Blind Pig & the Acorn."
Now that made my day! And what better way to find out about the good news-than from one of you. Seems only fitting that this month's giveaway should be a digital download of my book.
And the winner is…Kathryn Magendie-I hope you like it Kathryn!
Don't forget to click on a commenter's name above and go for a visit-all the ones in orange have a website of their own-I know you'll be glad you did.
Tipper