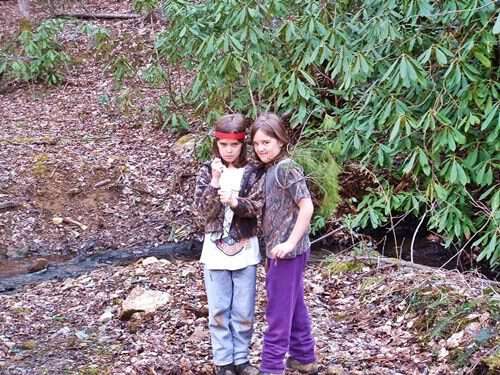 Chatter and Chitter
Summertime always makes me think back to being a kid. I remember summer vacation from school seemed like it would stretch on forever. Now time flies so fast summer goes by in a blur of gardening and sunshine.
We're quickly approaching another time of the year that takes me back to childhood, the start of a new school year. I still feel the excitement of new books, teachers, backpacks, and clothes even though I haven't experienced the annual occurrence in years myself nor do I even have children who experience it any longer.
Over the coming days I'm going to be talking about things we did when we were kids. From games, songs, to folklore, I hope to touch on it all.
As you can see from the photo above Chatter and Chitter's favorite play past-time was to be outside. Whether they were building play houses, making mud-pies, or fighting imaginary foes they would rather be outside than anywhere else when they were children.
If you'd like to send me a short written piece about something you enjoyed as a child or an old game/song/riddle you remember I'll try to share it along the way. You can send it to me at [email protected]
Tipper
Subscribe for FREE and get a daily dose of Appalachia in your inbox