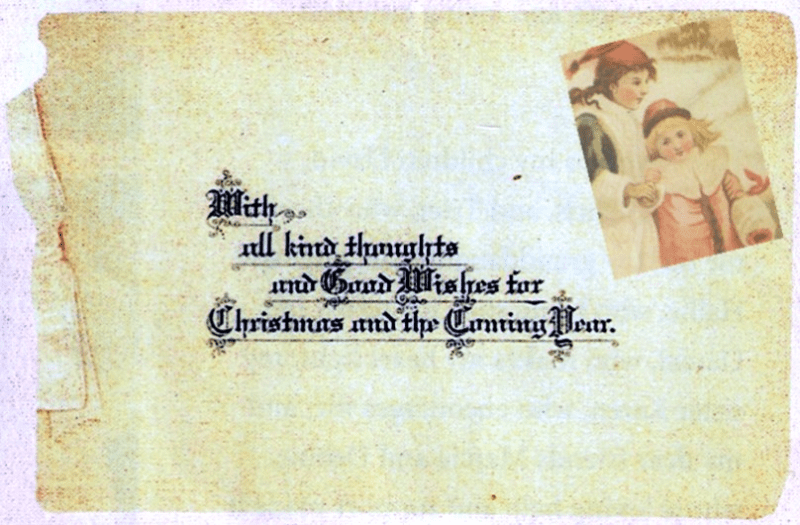 David Templeton found an old letter while fishing in the woods of Virginia. This is what he told me about finding the letter:
"I was fishing along a mountain creek over in Lee County Virginia. There was a gravel road that ran along the high bank, just above the creek. Lost in the thickets and honeysuckle, still hanging on to the banks of the road, but falling down eventually into the creek, was the ghost of an old house. Its roof was mostly caved in but the floors were somewhat still intact, so I could get into it.
Some of the old linoleum was still in place and some patches of wallpaper clung to the walls. Even a piece of furniture or a cabinet waited for someone from long ago to come back and take it with them.
I looked in a kitchen cabinet and found an old letter, still in the envelope someone had licked and mailed and someone had happily opened one December, many years ago, but time worn so the sender's address couldn't be seen. One end was torn off and two or three pages of still folded writing poked out.
I read the letter and, you know Tipper, I could feel the frail little woman, standing there, reading the Christmas thoughts her dear sister had sent.
And, I could look around the now dilapidated remains of a once warm home and imagine the little woman's smiles from another time as she put wall paper on the cabin's walls or when they brought the roll of linoleum she had gone to Jonesville and picked out at the furniture store. And, I could imagine a time when she had children there and the school bus was coming and she hurried them off and then sat at her kitchen table and wrote back to her sister.
And when I read the letter today, as I sometimes do, I can feel the poignancy as she and her sister pined to see each other during that bleak midwinter's day.
Weren't letters so much more meaningful when they were hand-written, just as the writer felt and just like the writer talked, without the adulteration of spell-check and grammar-check and fancy printed fonts?
Anyway, that's how I found the letter: In an old falling-down cabin in Virginia, written many years ago at Christmastime."
Read the letter David found below-I think you'll enjoy it as much as I do.
—————————
Dearest sister an
family.
Just a few lines let you know I am still living and as
well as could be expected at my age. Never feel good iny more.
Hope this will find the whole famley well and happy. Well sister Ronald had his operation. Got over it fine. Seams to be in better helth now. Is looking good. Elsie don't never feel well looks bad. They both are working. Elsie has bin working 6 days to the week. Ron puts in lot over time. That way it goes at this time of year. Well sister we had pretty fall, but it sit in to snowing baut week a go the ground was warm if it hadent bin we would has a big one about 2 inches layed on. Still some on ground. And Cold was 10 above this morn-I look for us to have a ruff winter that is what they are predictin. I dread it. Well I had go to stellas a week a go. Stay with neylun the children while Stella was in Hospitalle her Docter put her in to have testes run on her. He thought had what anna Sue had. But thank God she dident it was thyroid and nirvis Condition. Thay are treating her. I hope she don't half to have a opration. Seams like some of my family is always sick. I told them all I wanted for Christmas was all the family to be well. Would be the best thing in the world. I have went throw so much. Sister how is all your family? I am Just sending you a card and letter. I haven't got to do no Christmuss shopping. They way thay woork I don't have no way to go. So don't you send me nothing but a letter a baut your self the whole family I would like that better than iny thing I think a baut you all and wonder how you are. Sister I would love to spend Christmus with you better than iny thing but at this time of year would be dangras to travel and make a Change so I will do like the ground hog hole up tell warm wether but will be always thinking of my love ones wishing I Could be with them. Well sister Ronald and Elsie bough them a house and 1 acer land. We have moved I like it fine. We have watter in house I don't half pack it like I did don't half be out for nothing but go to mail box. The house has living room 2 bed rooms kitchen dining room bath room portch large basment we wash down there. Is room up stars to make 2 bed rooms if thay want to is stare way up there we keep all our Junk up there hang cloths to dry up there. We have oil heat Cook with gass. The house is white an out side trimed in blue. Have a big lawn plenty of srubery the Lawn borders an high way. The best thing we have land a nough to raise all the vectbles we want. There is 3 big pine trees in yeard. 2 grape vines lots rose bushes. Thay payed 1/3 down pay the rest a paying rint till thay pay for it. Well sister I am going to wash to day so I will sine of here. Tell Frank and Homer helow and not do nothing that I wouldn't. and dear sister, write me a letter for Christmaus gift I would like that better than iny thing. Take care of your self and be carfule if it gets icey and snows down there if you was to fall brake a bone would be hard to hell at your age. Wishing every one of you helth happens and susess in all your under taking. May the good Lord take care of you all and keep you until we meet a gin is my prayer.
Love
always
Your only sis Emma by by now
X O X O X O
—————————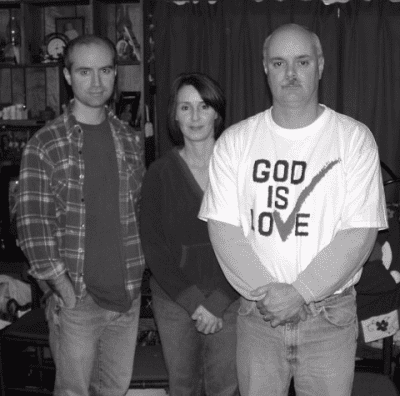 Paul, Tipper, Steve – Christmas at Granny and Pap's
It's been a few years since David sent me the letter he found. Every time I think of the writer, Emma, and of how she missed her Sister-it makes me forever grateful there's never been a Christmas I've not spent with Paul and Steve.
Tipper