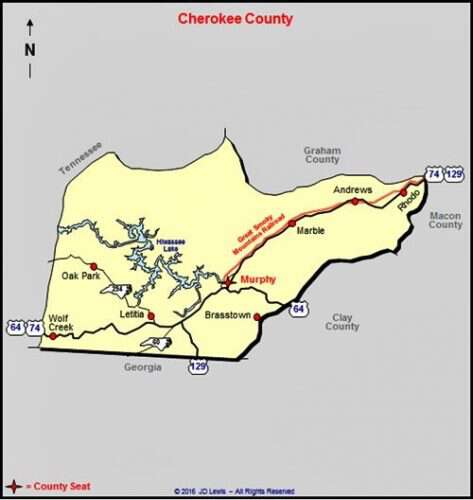 Map by JD Lewis
I'm sharing another place name history with you today by way of Wanda Stalcup.
——
Rhodo
During the time a railroad was being built from Red Marble Gap to Murphy, a family living in that area ran a boarding house and fed the workmen. Of necessity the morning meal or breakfast, had to be served at a very early hour. Being the day and time of heavy breakfasts, they baked what used to be known as wheat bread or cat head biscuits. In order to get the workmen off at this early hour, there was a great rush in the preparation of breakfast. Consequently the bread was always served partially baked and never seemed to be done. The men called it "raw dough." Soon the location became permanently known by that name. As time went on the place eventually became Rhodo and is still known by that name today.
——
Wanda is the Director of the Cherokee County Historical Museum. She knows more about the history of this area than anybody I know. A few years back she wrote a book "How I Saw Cherokee County". The book is full of wonderful stories, customs, traditions, and language. If you're ever in Murphy you can pick up one of her books at the museum.
Tipper
Subscribe for FREE and get a daily dose of Appalachia in your inbox