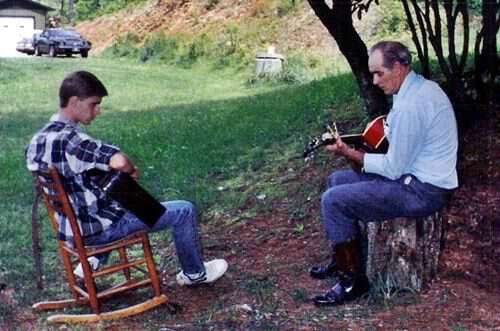 Paul and Pap – Picking under the Dogwood tree back in the day
As I was pondering on what I could share for this week's Pickin' and Grinnin' In The Kitchen Spot I remembered a video I stumbled on a few weeks back. It was filmed way back when Paul was still in college. Pap and Paul were doing the Delmore Brother's song "Gonna Lay Down My Ole Guitar." I thought I had previously shared the song, but a quick search of my posts showed I hadn't. I then wondered if we'd ever even uploaded the song to our Youtube Channel.
Turns out we did upload a version of the song way back in 2009 and since that time over 7,000 folks have watched it.
The Delmore Brothers were among Pap's all time favorite groups. He enjoyed their playing and singing, but as a songwriter himself, he was totally blown away by their song writing skills.
The duo were farm boys from Alabama. Their heyday was in the 1930s and 40s but their songs are still popular today especially in bluegrass/old time circles.
They played radio shows, were members of the Grand Ole Opry, and were inducted into the Country Music Hall of Fame.
Even though I've been familiar with The Delmore Brothers my entire life I'm amazed at how many famous standards they wrote.
To name a few: "Blow Your Whistle," "Freight Train Boogie," "Browns Ferry Blues," "Midnight Special," "Southern Moon Shine Down Again," "When It's Time For The Whipporwill,"  "I Won't Be Worried Long," "Sandmountain Blues," "She Left Me Standing On The Mountain," "Happy On The Mississippi Shore," "Put Me On The Trail To Carolina," "I've Got The Big River Blues," and more.
Like many of the songs we do "Gonna Lay Down My Ole Guitar" is a mournful tune. I recall one of my aunts telling Pap that sure was a sad song to be singing after she heard them play it. Her point was valid, but somehow I've always been drawn to the sad songs and I guess Pap was too.
I hope you enjoyed the song and I hope you have a wonderful Sunday. If you'd like to see the old video of the song that I found you can view it here on the Blind Pig and The Acorn Facebook page.
Tipper
Subscribe for FREE and get a daily dose of Appalachia in your inbox