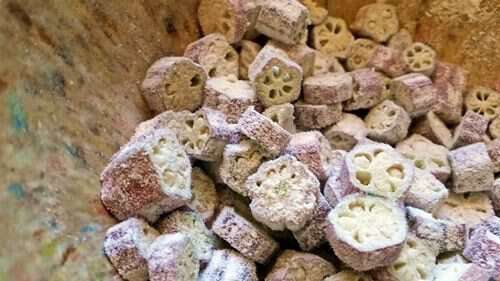 One of The Deer Hunter's favorite summertime foods is fried okra. Granny made a lot of fried okra when I was growing up, actually she still does, so I make mine like she taught me.
Slice up as much okra as you'd like to make and then toss it in a mixture of cornmeal and flour (more cornmeal than flour) that has been salted and peppered well.
Heat up a cast-iron frying pan and add enough oil to cover the bottom. Once the pan is hot throw in the okra and cook for about three minutes. Try your best to turn the okra over and cook for another three minutes. I never turn every piece over I just give it a good try with a spatula. Put the pan in a oven that has been pre-heated to 350 degrees and cook for about ten minutes and you'll have a perfect pan of fried okra to eat.
When I read back over this post to see if it made sense I thought something was funny about it. I finally figured it out. It is okra but I say okry. I actually doubt I've ever said okra in my entire life. However you say it-it's good eating!
Tipper
Subscribe for FREE and get a daily dose of Appalachia in your inbox