Today's guestpost was written by Keith Jones.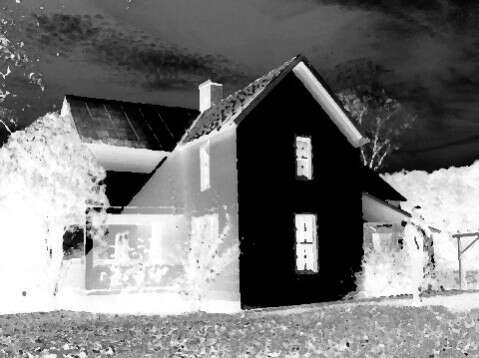 The Attic Visitor By Keith Jones (FaceBook/MountainStoryteller)
Robert Jiles was the most unimaginative man I ever met. He was unflappable, phlegmatic, and plainspoken. He was so literal-minded that when anyone's answering machine message came over the phone, his first words were always, "Are you there? Are you there?"
Rob had a meticulous, unimaginative job—health inspector for the county. He did a thorough job, and local folks learned to check for his signature at the bottom of the health certificates in local eateries. It didn't matter if the restaurant looked good. If he gave it less than a 90, you didn't want to eat there. And even if it looked like a hole in the wall, if Rob had graded a 'greasy spoon' at 95 or above, you might not like the food, but it was safe to eat.
He was the last person you'd expect to encounter a ghost, much less admit to it.
Mr. Jiles had reached his mid-30s, and had settled into a quiet life. A bachelor who wouldn't marry for a few years yet, he lived with his widowed mother in an old story-and-a-half frame house on a pioneer era road that had been bypassed by the four-lane running from Atlanta to Athens. As a boy, Rob and his older twin brothers Clayton and Coy shared a bedroom upstairs under the eaves. With the brothers having married and moved away, the bedroom was now Rob's alone.
Strange things used to happen in that house. If Rob and his mother were having supper, they'd hear what sounded like footsteps in the guest bedroom upstairs, across the tiny hall from Rob's room, and as far away from the kitchen table as it was possible to be in the house. Sometimes Rob would secure the front and back doors, peek into his Mom's bedroom to see that she was asleep, and trudge up the narrow stairs to his bedroom, only to have either the front or back door bang open. "It's the ghost, again!" his Mom would say sleepily. She'd also been raised in the house since her family moved there during her girlhood, and always claimed the old structure had a spectral resident.
"Mom, you know there's no such thing as ghosts!" Rob would say. "Or maybe I just didn't fasten the latch." He'd throw off the covers that hadn't yet had a chance to warm up at all, clomp back down the stairs, fasten the latch securely, and stomp back up the stairs. Usually that took care of things, but one stormy night he had to climb the stairs to refasten the back latch, only to awaken an hour later to the sounds of howling wind and rain blowing across the front porch and into the now-open front door.
"Robbie, it's the ghost for sure!" called his mother.
"Just a bad storm, Mom. Just the wind. You know this old house creaks and sways in the wind. It's a wonder it doesn't fall down."
It was an ongoing, semi-nagging argument between the mother and son. One of those things you kind of get used to talking about over and over. Mrs. Jiles stubbornly argued for the ghost, and Robert argued twice as stubbornly against it.
"Don't you remember when you, Clayton, and Coy went through that cubbyhole in your bedroom wall into the attic over the kitchen? You know y'all found old rags with rusty brown stains, and that old bloodstained quilt, and that broken Navy colt pistol. Why won't you admit there's a ghost in this house?"
"Mom, I know all about that stuff in the attic. You remember I took it to my history prof at UGA, and he told me there was a cavalry skirmish right out the road from us. Probably the Union or Confederates used our house for a hospital. There were several wounded in that little battle. That doesn't mean there's anything such as a ghost!"
The disagreement went on and on, neither mother nor son giving an inch.
One bright fall afternoon, Robert had a particularly hard day, but managed to finish an hour early. He got home to an empty house, because it was his Mom's day to attend the women's group at church. Hanging his jacket on the peg at the foot of the stairs, Rob climbed the steps to his bedroom, anticipating a quick afternoon nap.
As he opened the door, to his surprise a young man in raggedy gray and khaki clothes was standing by his bed, right in front of the room's only window. His back was to Rob, and he was looking longingly out the window.
Shocked to find someone standing so boldly in his own personal space, Robert blurted out, "What do YOU want?!?"
Slowly the young man turned. His face was smudged with black at the corner of his mouth, and there was a scrape along his right cheekbone. Robert noticed for the first time not only how ragged the clothes were, but that the pants were held up by a length of rope, and both the pants and jacket seemed too big. The young man was even younger than Rob had first thought, perhaps only a young teenager.
"I just want to go home," said the figure by the window.
Still filled with surprise and consternation, Robert Jiles said the first thing that came into his unimaginative head: "Well, go home, then!"
"The thing you've got to understand," Robert told me some years later, "the thing that's really hard for me to believe to this day, is that up to that moment, the young fellow was just as solid as you or me. He was nothing like the white sheets you see at Halloween or some spirit you can see through. It was just a person standing there. I thought he was maybe a burglar. But when I told him to go home, his eyebrows went up… and he smiled a little wistful half-smile… and then he faded away right where he stood, in maybe five or ten seconds. And from then to now, there's been no strange footsteps at our house, and the doors stay shut when we close them."
————————
I hope you enjoyed Keith's spooky tale as much as I did! If I couldn't go home I might take to haunting people or at least take to making a lot of racket to show my frustration and despair.
Blind Pig Reader Eva Nell Mull Wike will be sharing a presentation for authors at the Pulic Library in Andrews NC this Friday October 28 from 1:00 p.m. – 4 p.m. She will have copies of her book Fiddle of the Mountains: Attuned to the Life and Times of Johnny Mull for sale as well.
Tipper