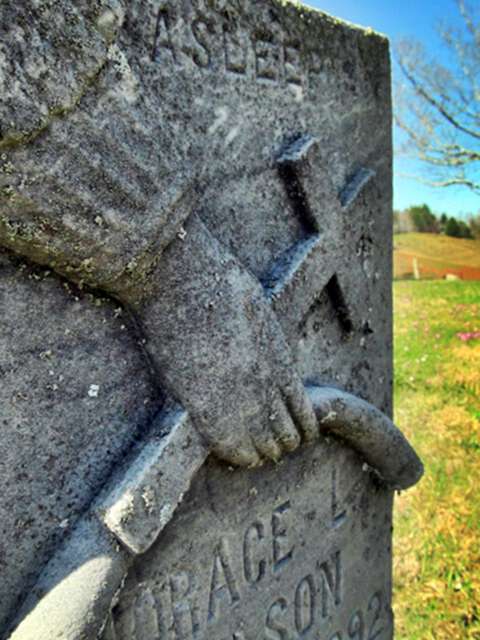 Like many people, I like to walk around old graveyards reading headstones and wondering about the folks who lie beneath them as I go. Customs surrounding death have drastically changed over the last 60 years here in the mountains. But there are a few of the old traditions and superstitions that are still being upheld, at least for now.
When Pap was a boy one of the first things to happen after someone died, was the tolling of the bell.
The church bell was rung to notify the community someone had died. Traditionally each ring represented a year the deceased person had lived. Ringing out the years of life helped folks figure out who had passed away.
In some areas folks who lived too far away to hear the bell were notified by a letter sealed in an envelope that was edged in black.
With no funeral homes, the deceased were kept at home until burial. Neighbors, friends, and family with food in hand would gather at the home to comfort the grieving family in much the same way that they do today.
Close friends and family would stay all night- sitting up with the dead. This may be the most well known tradition since it was made famous by Ray Stevens and his funny song.
In my lifetime several of Granny's family members lain in state at Granny Gazzie's house instead of at the local funeral home. In fact, Granny Gazzie was one of them. During her death and the deaths of my aunt and uncles I never thought it odd that their visitation service was held at home instead of in town at the funeral home. I wasn't one of the folks who set up all night with the loved ones, but there were others in the family who did.
In days gone by folks pitched in to help when someone died. They prepared the body, dug the grave, and made the casket. One of The Deer Hunter's friends lost an uncle last year and the men in the family built the casket themselves. He told me staying up all night with the other family members and working on the casket that they would lay their beloved uncle, brother, father, and friend in to rest was of the most meaningful things he had ever taken part in during his life.
Filling in the grave once the deceased was buried was reserved for close friends.
There are tons of Appalachian Superstitions surrounding death and its omens. I've joked that it seems like pretty much everything portends death in Appalachia. Here's a few superstitions that come quickly to mind:
If a bird flies in the house someone will die
If a picture falls off the wall someone will die (How crazy is this one!)
If you hear a screech owl at dusk someone will soon die
Death comes in 3s (This one is still alive and well in southern Appalachia and I believe it myself.)
Mirrors must be covered after a death in the house or whoever looks into one and sees their reflection will die
Howling dogs in the night signify death (I've lived near coon-dogs my entire life and let me tell you everyone in Brasstown would be dead by now!)
If you dream of birth it signifies death
When someone dies all the clocks in the home must be stopped to prevent another death
It is bad luck to walk on graves (I can remember being cautioned about this one as a child and I passed it on to my girls. Its actually a combination of respect for the dead and a fear of bad luck.)
Pregnant women should never look at a deceased person or it will mark the unborn child (When my Granny Gazzie died I was pregnant with the girls and I was warned over and over about this one.)
You must tell the bees if there is a death in the family or they will swarm
Bees carry the news of death
Never rock an empty rocking chair because it signifies death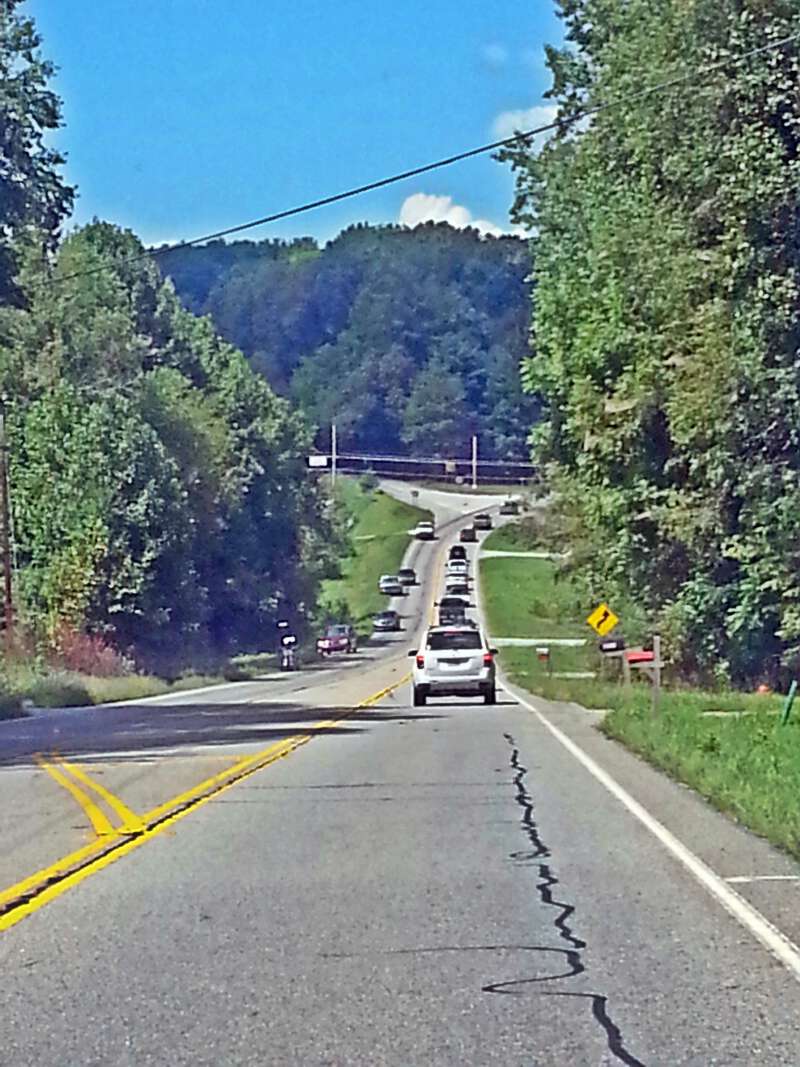 Back in the summer I was reminded of a funeral tradition that I've always taken for granted.
My sister-n-law Kim lost her Daddy, Robert, at the end of August. That means my nephews and niece lost both their Grandpaws in the space of a few months.
Robert and Pap were great friends. They went to Martins Creek School together as boys and had some great stories to tell about those days. They were both tickled to death when their families were joined together in marriage when my oldest brother Steve and Kim got married back in the day.
Robert and Pap remained close friends right up until their death. In fact, Robert ended up having the same hospice nurse as Pap did. Kim told me when Robert first met the nurse he told her all about his family and how proud of them he was. When he mentioned having two grandsons who had received full ride scholarships to Yale the nurse commented that kids around here must be really smart because she had another patient with two grandsons going to Yale on full scholarship. Robert took extra delight in saying "If you're talking about Jerry Wilson then it's the same grandsons."
Pap was buried at the church where his funeral was held so there was no procession of cars driving to the cemetery, there was only the walk across the road to the plot under the old oak trees. Robert's funeral service was held at a funeral home in Blairsville GA and he was laid to rest back over the NC state line in the community of Bellview beside his lovely wife Evelyn and their beloved daughter Robby and son Keith.
As we drove the distance between the funeral home and the graveside service my heart was brightened by all the cars who pulled to the side of the busy road in respect for Robert and his loved ones.
Traffic stopping out of respect for the funeral procession is a death tradition in Appalachia that I hope never ever goes away.
Tipper