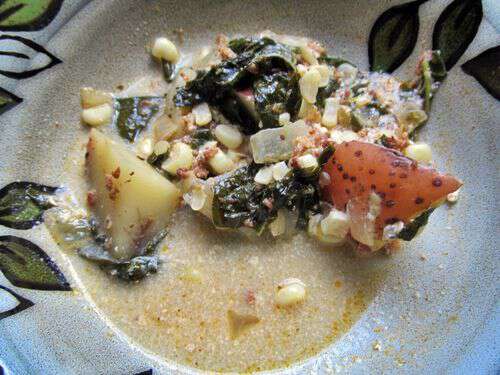 I made my first dish with Kale! Yay me! If you can't tell-I'm excited! I've cooked kale like greens and I've eaten it raw but I've never made a recipe that called for kale.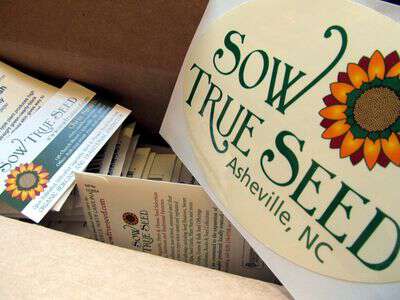 This year Sow True Seed graciously donated extra Kale seed so that I could deputize @ Large Kale Reporters. Nine people signed up to be Blind Pig and The Acorn Kale Reporters @ Large.
Now that I have 2 beds of growing kale with more to come, I've started keeping my eye out for kale recipes that sound like my bunch might like them.
I stumbled upon this recipe the other day. To be honest with you, I figured The Deer Hunter might like it, but I wasn't sure the rest of us would. I decided to give it a go anyway.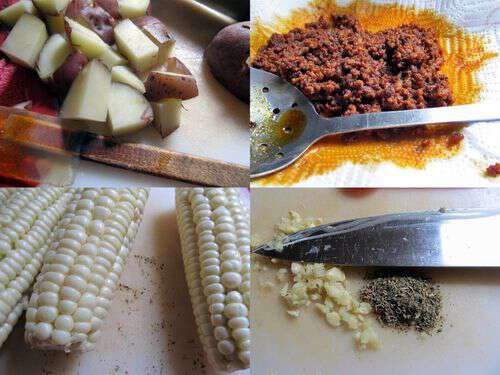 Kale and Potato Soup with Corn and Chorizo
1/2 pound red potatoes
8 oz. chorizo (chorizo is a Spanish/Mexican sausage. You can used cured chorizo and slice or dice it to your size preference or you can use uncooked chorizo. If you go the uncooked route, remove the casing and cook it as you would hamburger meat or crumbled sausage until it's crisp. Be sure to drain it well so that your soup won't be too greasy. I used the uncooked chorizo because that's all I found and I believe it was 7 ounces instead of 8.)
1 tablespoon olive oil
1 tablespoon butter
1 large onion diced
3 garlic cloves minced
3 sprigs fresh thyme (I didn't have any fresh so I used a teaspoon or 2 of dried)
1 teaspoon dried Italian herbs
1 teaspoon red pepper flakes (I don't like red pepper flakes so I used black pepper)
6 cups chicken stock
2 bunches of kale chopped (remove the stems if they are large and I guessed at how much a bunch was-I used to large handfuls of kale)
4 ears of corn-remove kernels from cob
1 cup half-n-half
salt to taste
Cook potatoes in water until just fork tender; drain; cool slightly and dice to whatever size you prefer.
Use a large pot to cook chorizo in:
If you use the uncooked variety, cook chorizo in one tablespoon of olive oil and set aside to drain.
If you use cured chorizo slice it up and cook in one tablespoon of olive oil until browned. Set it aside to drain.
Add butter and onion to pot and cook for about 5 minutes. Add garlic, thyme, dried herbs, and pepper. Cook for a few more minutes. Add chicken stock and bring to a simmer.
Add kale, corn, chorizo, and potatoes to the pot and simmer for 10 minutes or until the kale is wilted. Add half-n-half and cook until warmed through.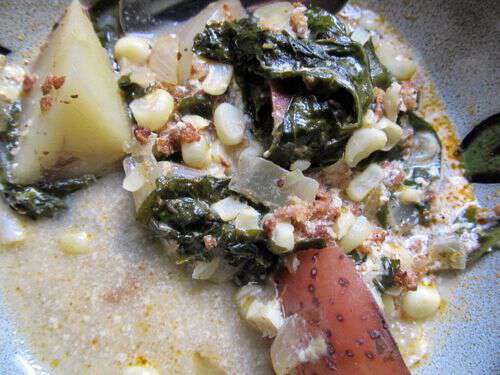 I was surprised at how much I liked this soup. The Deer Hunter loved it too. I don't think our picky twin daughters even tasted it but that's ok : ) I'll for sure be making this soup again and I was really impressed with the flavor of the uncooked chorizo so I'll make sure to use it again as well. I'm always interested in how a soup tastes a day or two later, as we pack leftovers for our dinner each day. This soup was still tasting good 4 days after I made it.
I'll update you on the progress of my kale beds later this week. And if you're a reporter @ large send me an update if you have time. You can email me at [email protected]
Tipper