I first shared this Christmas treat recipe back in December of 2013. It's another sweet treat that I never think about until Christmas rolls around.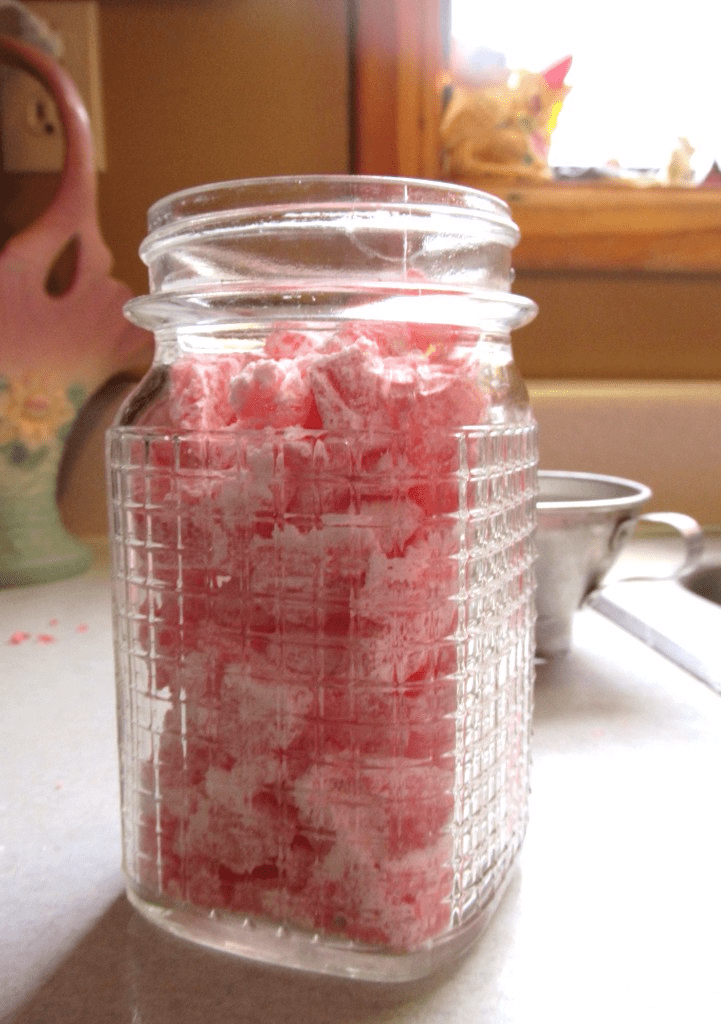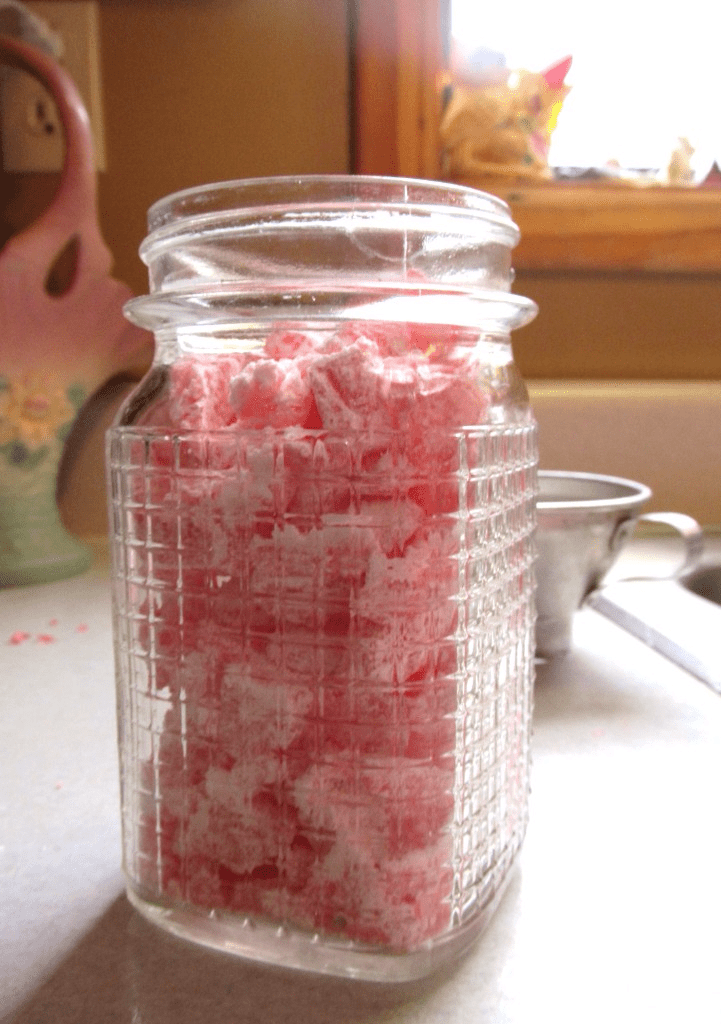 I don't remember Granny ever making hard rock candy-but the lady who fixes Granny's hair makes Hard Rock Candy every Christmas and gives it out as gifts. When I visit Granny this time of the year-I always look around for the little jelly jar full of hard rock candy and sneak a few pieces.
I found this recipe in Mark F. Shohn's Mountain Country Cooking and there was a recipe inside the package of cinnamon oil I purchased for the candy. The recipes were almost exactly alike-except Shohn's gave the option of making Sassafras Hard Rock Candy.
I assembled all my ingredients and gave it a go. Even though I was using a candy thermometer I somehow managed to burn the candy. And my what a smoky smelly mess that made! I carried the pot outside and set it down to cool and went right back in the kitchen to give it another try.
This time I got out my red and white checkered Better Homes and Gardens Cookbook that Granny got me when I was first married. The recipe for Hard Rock Candy in it was basically the same however it had more details about the process-making it clear the rise in temperature had to be at a slow and steady pace. The Better Homes and Gardens recipe also used a lower temperature for the candy.
Christmas Hard Rock Candy
2 cups sugar
1/2 cup water
1 cup light-colored corn syrup
1/4 desired food coloring
A few drops of cinnamon or peppermint oil
a candy thermometer
butter
aluminum foil (or tin foil as we call it)
First line a 8X8 pan with foil and butter the foil. I didn't have an 8X8 pan so I make one out of a larger pan by placing a small loaf pan in one end with a can of can food to hold it in place under the foil.
Butter sides of a heavy 2 quart saucepan.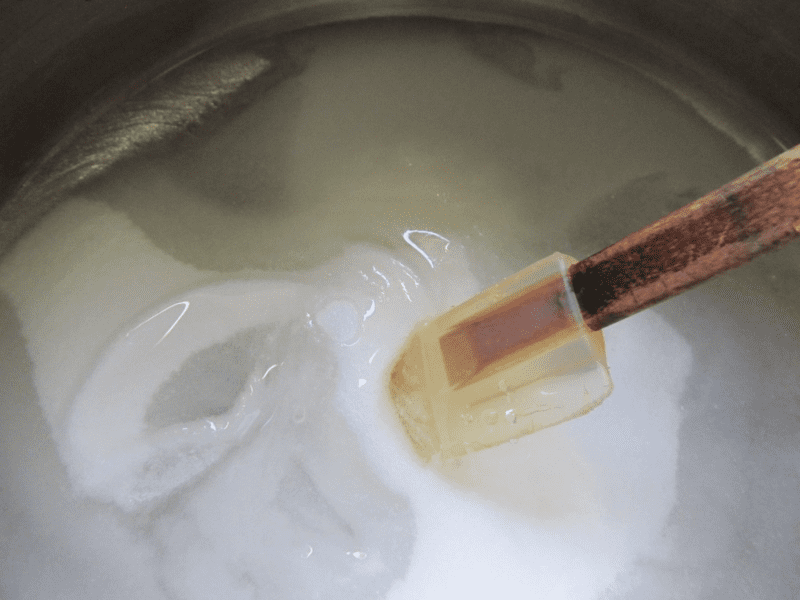 Add sugar, corn syrup, and water to the saucepan. Cook and stir over medium-high heat till mixture boils, stirring to dissolve the sugar-about 5 minutes. Using a candy thermometer-reduce heat to medium and boil until the mixtures reaches 290 degrees. Stir mixture occasionally-this part takes a good 20 minutes if not longer.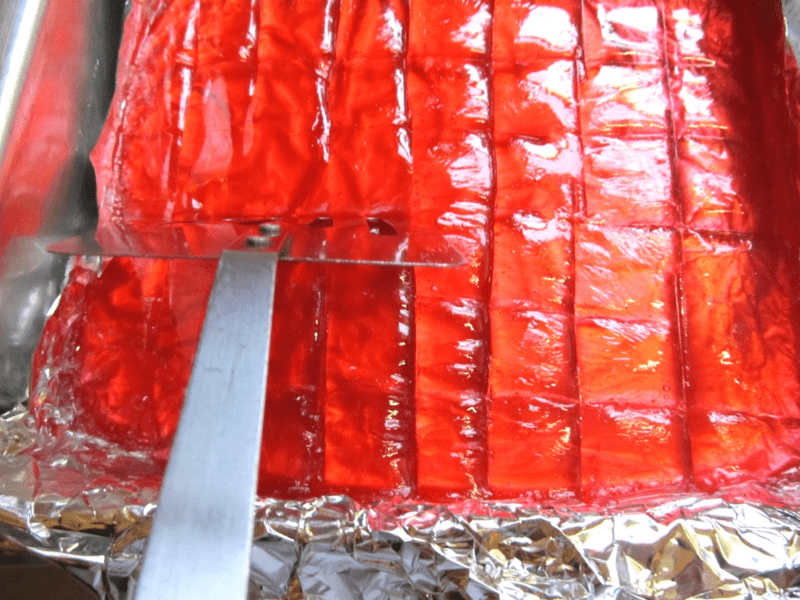 Once the mixture reaches 290 remove it from the heat quickly. Add food coloring and flavoring-stir and then quickly pour the hot mixture into the foil lined pan. Let the mixture cool about 10 minutes and then using a spatula score the top layer of the candy in a checkerboard pattern. If the mixture is too hot the score marks will disappear-don't worry just wait a few minutes more and try again.
Cool completely. Turned cooled candy out onto a cutting board and break along the score marks. This part didn't work out to well for me. So I ended up laying a piece of plastic wrap on top of the candy and beating it into small pieces by using the back of an ice-cream scooper. (the plastic keeps the pieces from flying all over the place)
Put the broken pieces of candy into a ziplock bag and add less than 1/4 cup of powdered sugar. Shake the bag around-coating the candy. This step makes the candy look prettier-and it keeps it from sticking together.
Even though I ruined the first batch-the second batch of candy was more than worth all the trouble and mess. I don't know who likes it better-me or The Deer Hunter.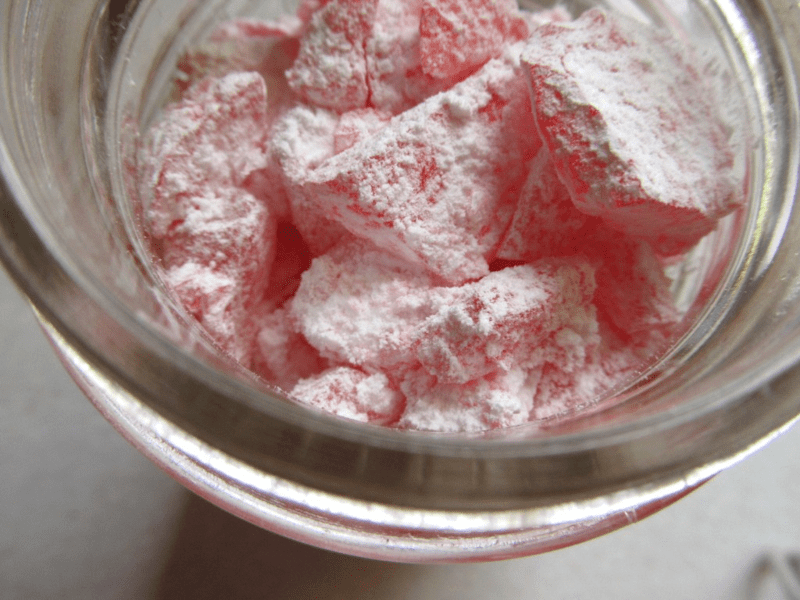 A few key points:
while the thermometer starts off slowly climbing-it seems to speed up as it reaches about 230-so be sure to stay close by
the mixture is beyond hot-so be careful not to get splattered by it
once the cinnamon or peppermint oil is added to the hot mixture-the quick release of odor will almost catch your breath if you're leaning over the pot
Granny's hairdresser uses molds for her hard rock candy-so the pieces are all uniform in size and shape
Tipper