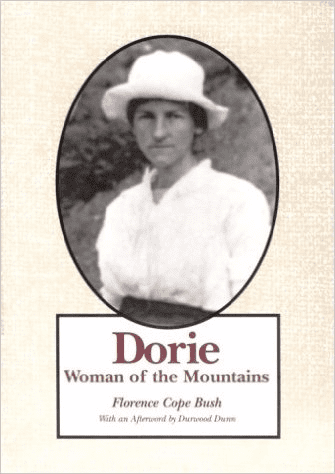 I've read lots of books about Appalachia. One of the ones that ring the truest to me is Dorie Woman of the Mountains written by Florence Cope Bush. The book was first published in 1992 and has been published at least 7 times since then if not more. In the introduction Florence Cope Bush writes
"Dorie: Woman of the Mountains was not written with the idea that it would ever be published. I wrote it as a gift to my daughter, my mother, and myself. The manuscript was in my possession for fifteen years before a friend talked me into letting him publish two thousand copies in paperback for local distribution."
The book is a biography about Bush's mother, Dorie. The story spans the years between 1898 and 1942 and is set primarily in the Smoky Mountains.
Dorie's husband, Fred, had employment in the logging boom that went on in the early 1900s in the Smoky Mountains. The life and culture of logging weaves its way throughout the book as does the culture and heritage of Appalachia.
Here are a few quotes from the book related to the Christmas season:
"Snow fell several times after Thanksgiving, but the real winter weather didn't come until after Christmas. Usually, fair weather held long enough for Pa to hunt fresh meat for Christmas dinner-squirrel, quail, or perhaps a wild turkey."

"Christmas in the mountains was bleak and uneventful. Sometimes the day passed without us being aware it was holiday season. We had no Santa Claus or Christmas tree. Since our Christmas in Spartanburg, Ma had let us hang up our stockings. That was as far as she'd let us go with our celebration. When we did hang up our stockings, we'd get an orange and a piece of candy-never anything to play with."

"The mountain people still kept the ancient customs of the native lands. Many highlanders disapproved of the "new" Christmas observed on December 25. In Scotland and Ireland, the day of Christmas was January 5-a day of solemn celebration."

"In a strange contradiction, while shunning all symbolic trappings of Christmas Day, they saw nothing wrong with noisemaking. The men and boys provided the noise for the celebration. They'd go into the woods and shoot their guns at nothing at all. All day long shots echoed from one mountain to another. "
—————–
I hope you enjoyed the excerpts from one of my favorite books about the southern mountains of Appalachia. Be on the lookout for some Christmas folklore from the book over the coming weeks.
Tipper