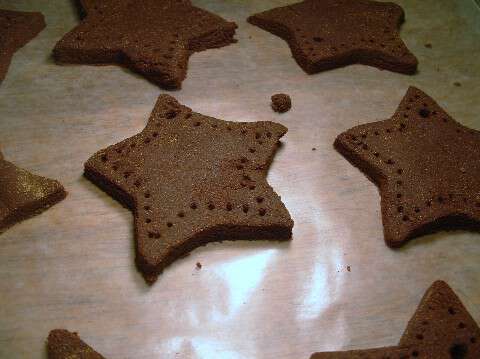 When the girls were in 2nd grade they made applesauce cinnamon Christmas ornaments at school. All these years later-the little gingerbread men still smell so good each year when we get them out to put on the tree.
Chitter and Chatter like to give little gifts to family members-especially the Aunts and Grandmothers. As I tried to think of something inexpensive, neat, and pleasing to everyone-I came up with applesauce cinnamon ornaments. I told the girls-if we make them in a shape that would be appropriate for year round use-it would almost be like giving them a scented candle-but a whole lot cheaper.
There are all kinds of recipes for the ornaments. You can see one here. Basically you form a dough out of cinnamon, applesauce, and glue. We started with a cup of cinnamon, a cup of applesauce, and a teaspoon of glue-we ended up adding more cinnamon during the process.
After the girls mixed up the dough-they rolled it out. The thinner the ornament-the more easily it will break-so you need to leave them kinda thick. Ours ended up a little over 1/4 inch thick-I'm sure they should be thicker. Mr. Gingerbread Man from days gone by is almost a half an inch thick.
Since we were going for a shape that could be used year round-we went with stars. After they were cut out-the girls decorated them by making designs in the surface-and used a straw to make a hole in one corner. Once they dry completely we'll add a piece of ribbon for hanging. They will air dry over several days-I helped ours along by putting them in a barely warm oven.
I had the applesauce and glue-all I had to purchase was the cinnamon-I got bargain bin cinnamon which were 2 for a dollar. For 2 bucks we made several presents-you can't beat that. And my house-smells wonderful!
Ever make applesauce cinnamon Christmas ornaments?
Tipper