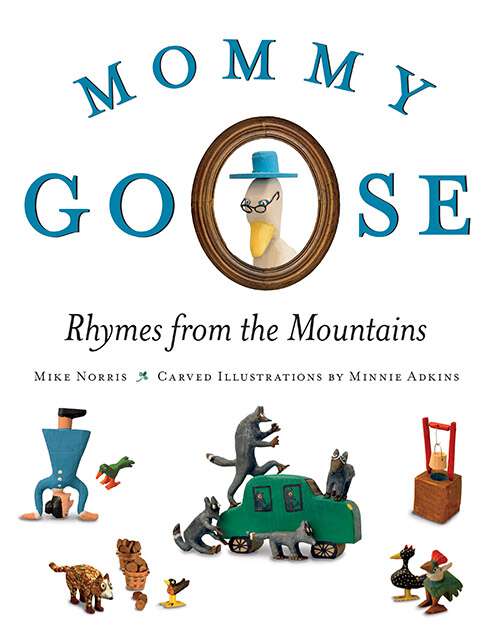 This is my third post about Mike Norris and his book Mommy Goose Rhymes from the Mountains. I'm a fan of the book if you haven't figured that out by now. It is filled with 50 original rhymes written by Mike himself. The book uses the rich colorful Appalachian Language that I so love.
It is wonderfully illustrated with photos of over a hundred hand carved and painted works by Minnie Adkins who has permanent collections in the Smithsonian American Art Museum, the National Gallery of Art, and the Kentucky Folk Art Center.
Here are two poems from the book-the first of which is very appropriate for today's giveaway.
THE ROOSTER
The rooster started pecking at Granpaw's legs,
Then tried to flog Granmaw as she gathered eggs.
Granmaw boiled water,
While I churned butter.
The next night we had fried chicken for supper.
————————–
BENJAMIN GRIMES
Benjamin Grimes
Went down in the mines,
But only lasted three days.
The note from the clerk
Said, "Unwilling to work,"
But Ben said it wasn't that way.
"Had nary a trouble
With pick or shovel
Till something come up grey.
Not a loafer or shirker,
But one thing for certain,
I'd druther draw breath than pay."
I especially enjoyed the first poem because of a story my friend, Trevis, told me.
When Trevis was a little boy he stayed with his grandmother during the day while his momma worked. Every morning he'd walk to the barn with his Mamaw to feed the chickens and take care of the other chores after his grandfather had left for work. He said one morning his Papaw's favorite rooster attacked Mamaw. Before Trevis knew what happened Mamaw had reached down and taken care of Mr. Rooster-in other words he'd never attack anyone again. That night they had the chicken for supper and Papaw didn't know he was eating his favorite rooster till later! Trevis said his Papaw was mad, but his Mamaw said she was tired of that mean ole rooster bothering her.
In addition, you can purchase a cd of the book which contains a song Mike wrote about Mommy Goose. The song, along with the music, is in the back of the book so anyone interested can learn it themselves. The cd also contains a very nice narration of the book by Mike and a conversation between Mike and Minnie that will leave you smiling for the rest of the day.
I asked Mike where the best place to purchase the book and the cd was and this is what he said:
The Mommy Goose: Rhymes from the Mountains CD is now available on iTunes, Spotify, Amazon, Google Music, and a bunch more places online. Check it out on iTunes and listen to samples of the tracks here:
http://itunes.apple.com/album/id1160037010?ls=1&app=itunes

If you have the book without the CD, it's really not complete, as the song, narration, and 40-plus minute conversation with Minnie are a key part of the project. (And physical CDs can be ordered from Amazon.)

Bookstore versions of the book may be ordered many places online, but Amazon and The University Press of Ky [it's the university press of the whole state, not just UK] are two good sources.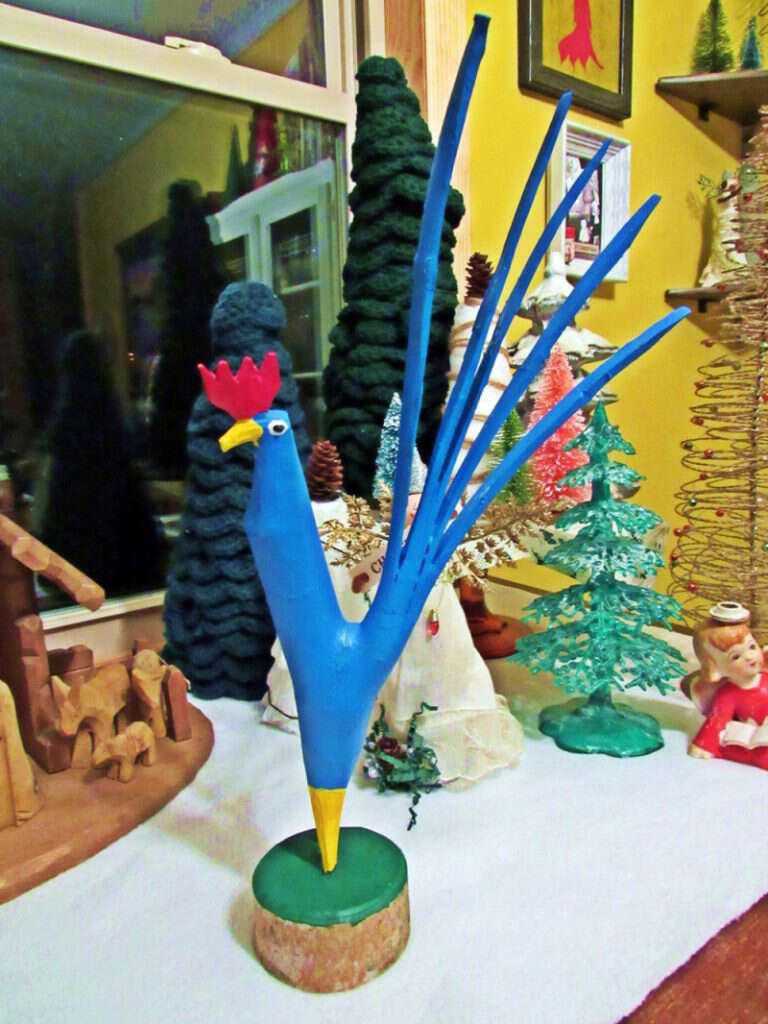 If there is a child in your life or a rhyme loving adult like me, I suggest you buy Mike's outstanding book and cd for them. Both items would make dandy Christmas presents. Preserving our language is a cause that is near and dear to my heart and I commend Mike for trying to keep our rich colorful Appalachian Language alive.
Minnie generously donated one of her Blue Roosters for me to giveaway as part of my Thankful November Series. Minnie Adkins is a featured artist in the Smithsonian American Art Museum, the National Gallery of Art, and the Kentucky Folk Art Center.
Leave a comment on this post for a chance to win the Rooster. *Giveaway ends Saturday December 3, 2016.
Tipper