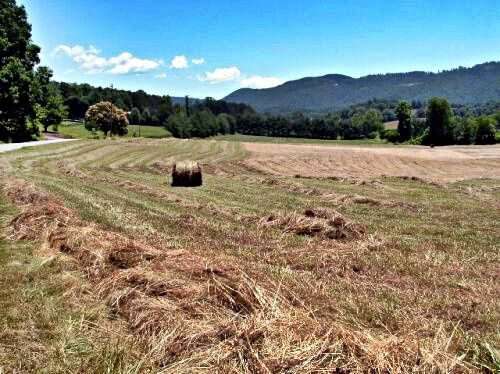 Folks in my area have just completed their first cutting of hay. They usually get two cuttings of hay during the summer, and if the weather shines down upon their fields in a good way they might even get three cuttings.
Putting up hay has changed a lot since I was a girl. I remember Whitmire cutting hay on his large cattle farm that borders Wilson Holler. He'd hire local boys to help him and you could see them hot, sweaty, and I'm sure itchy as they threw the square bales onto the back of a slow moving truck. These days its all the large round bales that have to be moved with a tractor.
Jump farther back in time and you can see an even more drastic change in hay cutting time.
When Pap was a boy they cut hay by hand. He told me they only cut hay once a summer in those days. As time went by and things advanced in the mountains of western NC Pap's family used a cutting machine that was pulled by a team of horses to cut hay. Pap said when that happened they thought they had hit the big time. Cutting hay with a machine and horses was easier and it was so much faster than cutting by hand.
A rake behind a horse or mule was used to pile the hay and pitchforks were used to throw it on the back of a wagon. If you were lucky enough to have a big barn, Pap said you stored the hay in the loft.
Folks that didn't have a barn or needed more hay than the barn would hold, would cut a small tree, four or five inches thick, and cut the limbs down to where they were short and stubby. The tree was placed in the ground and the hay was thrown around it into a pile of sorts. Pap said the hay actually lasted pretty good with the tree method, not as good as inside a barn, but good enough to provide for the animals.
Over the weekend I had the good fortune of talking to one of Pap's old friends Bass Hyatt. Bass grew up in Brasstown and went to school with Pap at the old Odgen School. His family has been in the cattle business for generations.
Bass told me when he was just a boy the hay had to be replanted each year. The type of spreading creeping grass we have today hadn't been introduced in this area so the fields had to be harred and the seed put in the ground each spring. That was an extra burden placed on top of the whole cut it by hand part. Bass said "My daddy taught me to pile the hay in a tall stack and I did it enough that I got pretty good at doing it."
Tipper
p.s. You can catch The Pressley Girls this weekend at the John C. Campbell Folk School's Friday Night Concert. The performance will be held in the festival barn unless it rains and forces a move to the Keith House. Be sure to bring a chair or get there early to get one. Show starts at 7:00 p.m.
Subscribe for FREE and get a daily dose of Appalachia in your inbox