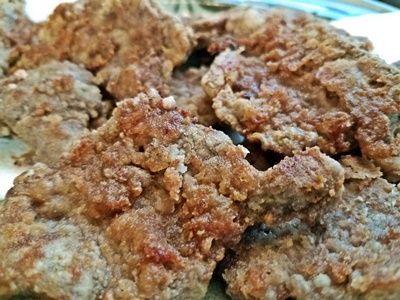 As you might imagine we eat a lot of deer meat. We like it cooked a variety of ways. When The Deer Hunter harvests his meat he either cans it or freezes it.
Opening a can of deer meat makes for a quick and tasty supper. Cooking a ham (roast) takes more planning since the cooking time is longer. My favorite way The Deer Hunter cooks a ham is overnight in the oven. I've heard Paul say if he had to choose one last meal to eat it would include The Deer Hunter's deer ham.
Frying tenderloin also makes for a quick supper. Chitter is the queen of fried tenderloin, the girl loves it and would eat it every day if she could.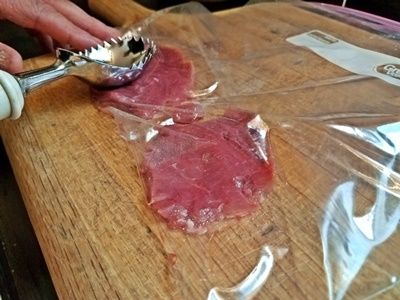 When The Deer Hunter was growing up Papaw Tony made fried deer tenderloin for him. After slicing the tenderloin in half-inch slices, Papaw would use a coffee cup to tenderize the meat by beating it with the edge or lip of the cup. Having learned from his daddy The Deer Hunter used a coffee cup for many years and even taught the girls to use it.
I'm not coordinated enough to use a coffee cup so I use an ice cream scooper. I know they make a tool especially designed for tenderizing meat, but somehow we never get around to buying one so we use what's on hand.
After tenderizing the meat, we dredge the pieces in a flour, salt, pepper mixture and fry in hot oil in a cast iron frying pan. Only takes a minute or so on each side and its done. When I first started cooking deer meat I almost always over cooked it.
The other day I was talking to a couple about venison. After we'd talked a few minutes I said "You know I never even heard the word venison until I was an adult. We always called it deer meat, actually we still always call it deer meat." The lady said now that she thought about it her family only called it deer meat too.
Tipper
Subscribe for FREE and get a daily dose of Appalachia in your inbox