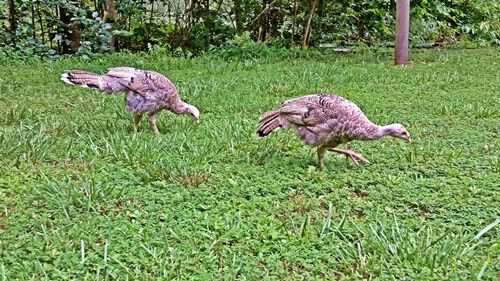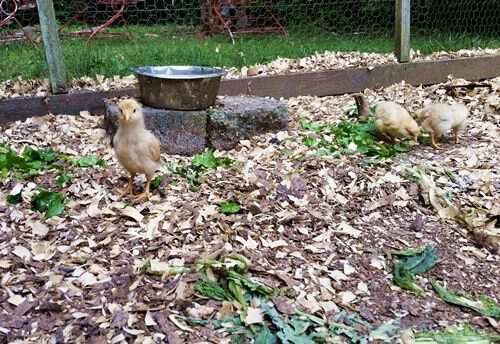 1. The turkeys are still hanging around and we now have three baby chicks. We started out with five chicks. One died shortly after it hatched and the other one simply disappeared. The little rats keep squeezing out between the wire on the chicken coop and then they run around like crazy trying to figure out how to get back to their momma. I'm guessing the one that disappeared escaped from the cage and got eat by something in the yard.
2. Thanks to the great generosity of a friend, the girls and I were able to sneak off to the beach for an entire week. We had a ball! Each day we were on the beach by 9:00 a.m or earlier and that's where we stayed till late evening. We read books and enjoyed the waves and when the girls got bored with that they went in search of sharks teeth and shells. They found plenty of both! And you know Chatter and Chitter couldn't go a whole week without playing some music-you can catch a bit of it by clicking on the video above (click on it again to get it to stop).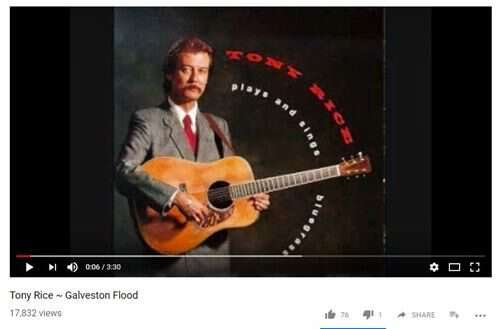 3. I'm still on the Tony Rice kick. Lately I've become obsessed with his version of "Wasn't that a Mighty Storm." The first time I listened to the words I turned it off. I just couldn't bear to think of the trains loaded with people falling off the trestle. Even though I've listened to it a blue million times since then I still feel the fear and despair of the people caught in the flood. I was inspired to research the great storm of 1900 and learned 6,000 to 12,000 people perished in the hurricane. A mighty storm indeed. No one knows for sure who wrote the song, but like other folk songs that describe a horrible happening it quickly spread across the land. Two lines in the song stand out to me:
Death come howling on the ocean and when death calls you got to go. Ain't that the truth in simple plain talk? When death calls you got to go.
Oh death your hands are clammy when you got them on my knee come and took my mother won't you come back after me. I imagine that's exactly how I'd feel if a storm took my mother and my brother all at the same time.
If you're up to hearing the sad song go here.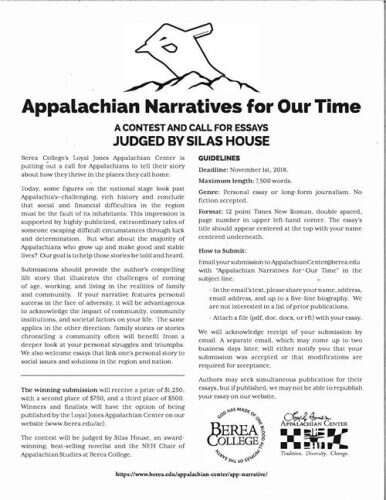 4. I wanted to tell you about a project that's being hosted by Berea College's Loyal Jones Appalachian Center. Here's the gist of it:
"Berea College's Loyal Jones Appalachian Center is putting out a call for Appalachians to tell their story about how they thrive in the places they call home.
Today, some figures on the national stage look past Appalachia's- challenging, rich history and conclude that social and financial difficulties in the region must be the fault of its inhabitants. This impression is supported by highly-publicized, extraordinary tales of someone escaping difficult circumstances through luck and determination. But what about The majority of Appalachians who grow up and make good and stable lives? Our goal is to help those stories be told and heard."
For more information about the project click here.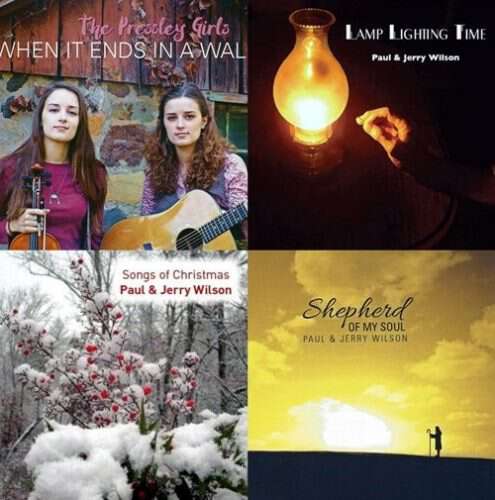 5. Someone recently asked how they could purchase our music. If you go to this page you can see all of Pap and Paul's cds that are available. A few of their cds are also available on Etsy here. And if you're interested in The Pressley Girls you can find their cd here on Etsy. The girls sold out their first run of cds and had to order more. They are blown away by the response they've received and so am I.
Tipper
Subscribe for FREE and get a daily dose of Appalachia in your inbox