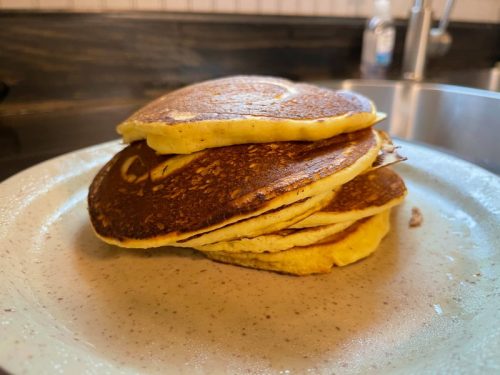 I've made pancakes since I was a little girl. I've tried different batter recipes and I've used various pancake mixes, but never been really pleased with any of them.
Pap made the best pancakes. I loved it when Granny used to call and say your daddy's making pancakes why don't you come and eat. I'm telling you I always went unless there was some major reason that I couldn't 🙂
Several months ago I was looking for a new pancake recipe to try and found one that called for sour cream. I gave it a try and I've been using it ever since.
Pancakes
1 cup milk
2 eggs
1/2 cup sour cream
1 tablespoon sugar
1 teaspoon vanilla
1 and 1/2 cup all purpose flour
2 teaspoons baking powder
1 teaspoon salt
Mix flour, baking powder, and salt together and set aside.
Mix rest of ingredients and until sour cream is blended and no longer lumpy. Add to flour mixture and stir till combined.
Add butter to a pan and fry pancakes.
The sour cream gives the pancakes a nice fluffy texture. I've halved the recipe and it still turns out great. I've also used self-rising flour in place of the all purpose flour, baking powder, and salt with good results.
Tipper
Subscribe for FREE and get a daily dose of Appalachia in your inbox