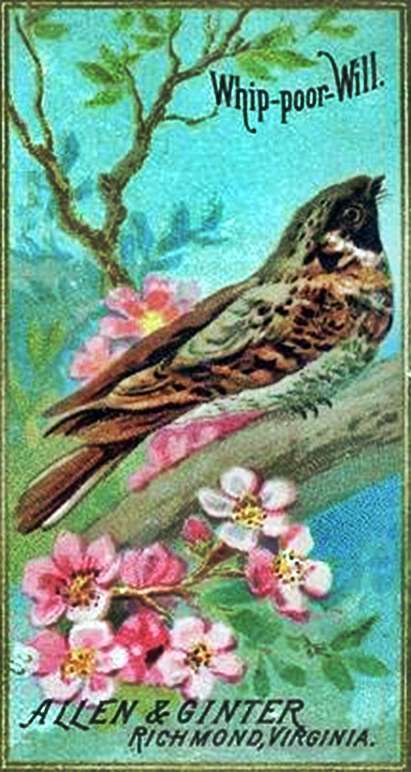 For the past few evenings we've been hearing a lone whippoorwill singing its heart out. Most years we hear a whippoorwill at dawn too, but not this year.
With our one whippoorwill singing it's warbling note it's hard to believe there was a time there was so many whipporwills calling it was hard to hear anything else.
Pap said when he was a boy there was lots of whippoorwills. He told me a funny story about them.
Old man Jeff and his brothers were out fox hunting one night and the whippoorwills were so loud they couldn't hear the dogs running. Jeff told one of his brothers to pull out his shirt tail and tie a knot in it-to choke the whippoorwills. As soon as he tied the knot the birds quietened a bit. And he told him to tie another one and the birds got even quieter! The old man then instructed his brother to tie one more knot and as he tied the last knot all the whippoorwills fell out of the tree and there hasn't been a whippoorwill in Bellview since!
Now that's what you call a tall tall tale!
I love hearing the call of the whippoorwill. The sound is kind of eerie and lonesome. In some areas the whippoorwill population has been decreased by as much as 80%, not because of someone choking them out with their shirt-tail, but by continued spread and sprawl of people.
Here's a video recording I captured of a whippoorwill back in 2012.
When I recorded the sound we still had our little dog Ruby Sue. Every time the whipporwill started calling Ruby started barking. She'd run all over the place barking every which away 🙂 Which wasn't so funny at 5:00 a.m.
The Delmore Brothers had a dandy song about whipporwills singing in the spring of the year. Here's Pap and Paul's version.
Do you hear whippoorwills where you live?
Tipper
Subscribe for FREE and get a daily dose of Appalachia in your inbox