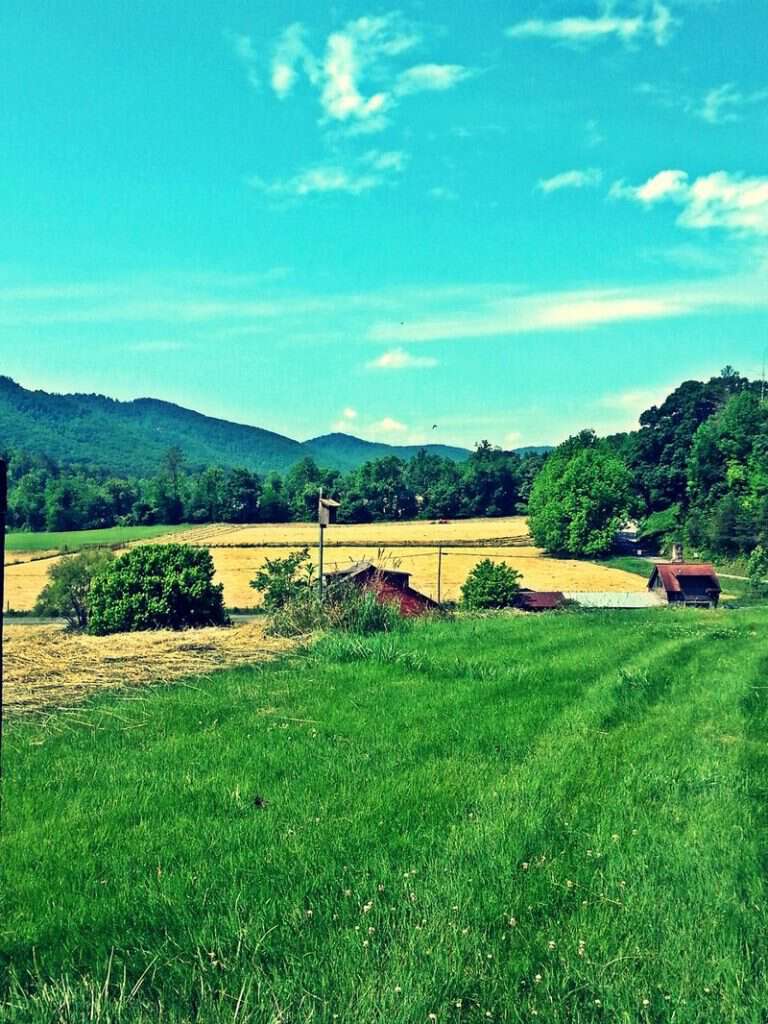 The 1974 Winter Edition of the Foxfire Magazine contains a compilation of newspaper articles written by Harvey Miller. At the time of the magazine's publication Miller's weekly column had been around for sixty years and was till being published in the Tri-County News located in Spruce Pine, North Carolina.
Here are a few of Miller's articles published during the month of May. I enjoyed them and hope you do too.
——————
I think the hills of Pigeon Roost is as good a place as any to be in the spring of the year.
I like to tap the sugar maple trees and get a good drink of maple sugar water, but people here no longer boil the maple sugar water and make sugar candy. A long time ago, people here even made maple sugar and sold it on the market.
I like to tap the wild grape vine water and use it for a hair tonic. You can keep the grape vine water three or four days without it souring. Grape vine water will make hair on your head grow real fast, they say. It will make it grow thicker, too, and it must be good for a bald spot.
I sure also like to break off the young growing, twisting twigs of the wild grape vines and chew them. They are real sour, but they make a good chew.
I like to gather sweet shrubs, called here "bubbies," and carry them awhile in my hand. Talk about a sweet-smelling odor – the bubbies really are something. They smell better than most roses. In fact, the bubbies are like a perfume and the odor will linger for a while. What the sweet shrubs or bubbies are called away from this mountain country, I do not know.
5/15/58
——————
Carmon Miller reported to the writer that he put a ten pound size lard bucket in a groundhog hole and he went back the next morning and found that the groundhog had cut a hole in the bottom of the bucket big enough to crawl through.
5/23/63
——————
Through extensive correspondence with the news writer, the late James Taylor Adams of Big Laurel, Va., this writer learned the complete details of how a dead mule managed to kick and kill the man who owned it.
In the work of loading the dead mule onto a sled so it could be hauled away from the barn pulled by a team so it could be buried and in some way in putting it on the sled, they got one of the dead mule's legs doubled up and got it in a twist. When the mule's legs pulled away to get straight like its other legs, it swung around some way and struck the man slap dab in the burr of the ear (which is said to be an easy place to get badly hurt if not fatal) and the man died right on the spot.
Rev. Harris Street of Pigeon Roost told me a story not too long ago. He said his father, Clingman Street, lived far out on towering Rich Mountain on the waters of Pigeon Roost Creek and one morning in the winter time real early, his neighbor, Charles Webb, who lived not too far down the hollow below him, came to tell him that he wanted him to go down to his barn and help him and another one of his neighbors, Charlie Barnett, lay down his dead mule so he could bury it.
Well, Mr. Street first thought that his neighbor was trying to pull a joke on him but when they went down to the old log barn, they found the mule standing in a cold open log barn stall dead as a door nail.
It took the three men to throw the mule to the ground by putting a "prize" under it with two heavy ten feet chestnut fence rails.
Old timers remark about the words of an old song about the mule is a mule until he dies. Well, it seems that a mule is still a mule after he is dead.
5/4/67
——————
This is the time of the year to see ground hogs. Granny and I saw one yesterday in a garden down the road. The little bugger was standing up on his hind legs going along the garden row like he was at a buffet feast made just for him.
To read more about sweet smelling bubbies go here.
Jump over to the Foxfire website and poke around. They are still publishing the magazine and those wonderful Foxfire Books too!
Tipper