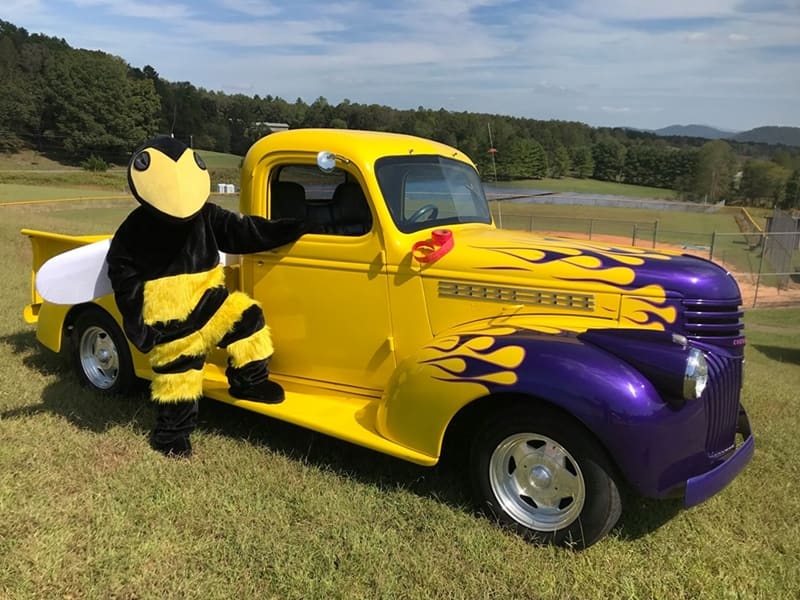 If you've been reading the Blind Pig & The Acorn for a good while you'll likely remember me talking about Martins Creek School on occasion.
Its the school I and my brothers went to as children, its the school the girls and my niece and nephews attended and its even the school Pap went to when he was a child.
Although the location of the school changed after the old school burned, the spirit and community of Martins Creek School is the same as it was in the old days.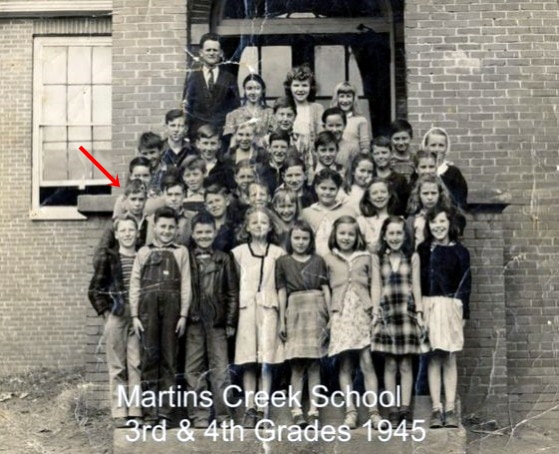 Pap and his classmates at Martins Creek School (the red arrow is pointing to Pap)
Martins Creek School always ranks high when it comes to academic standards as well as community involvement. Here's a blurb from their website about some of their accomplishments:
"Martins Creek School sits amid a picturesque 61-acre campus. It serves grades Pre-K through 8 and is known as community/family-oriented school. MCS is a Title 1 School with 100% of staff deemed highly qualified according to federal standards. The majority of teachers hold advanced degrees and/or National Board Certification.
Martins Creek School has earned much recognition: North Carolina School of Excellence, Top 25 Schools in North Carolina, School of Exemplary Growth, and one of the Top 100 Wired Schools in the nation by PC Magazine. Recently, the State Superintendent identified MCS as a NC Reward School based on three consecutive years of high student achievement, an honor received by only 25% of state schools. For three consecutive years, MCS achieved both Gold Level status in national Math Counts competition and won the coveted Sportsmanship Award for the Smokey Mountain Middle School Athletic Conference, also winning the county middle school Battle of the Books competition for two years running.
The growing student population participates in a wide variety of enrichment opportunities, including elementary and middle Battle of the Books, online classes for high school credit, Civic Oration, Math Counts, chorus, Lego Robotics, Science Olympiad, Sustainability Club, overnight field trips, archery, marksmanship, volleyball, cross country, basketball, softball, baseball, track, and more. The 21st Century Learning program is available after school for eligible students. The Parent Teacher Organization and volunteers play a vital role at MCS, logging thousands of volunteer hours at the school. Parents are always welcome and are seen volunteering daily.
Martins Creek School is the site of a 1-megawatt solar array, one of the largest in the southeast. Its 4,000 Polycrystalline modules produce enough energy to prevent the burning of 75 tons of coal per day, an estimated 1.3 million kilowatt-hours each year– enough to power more than 150 homes. The entire school district benefits from this energy savings.
To make things easier for families, the only supplies parents need to provide are a backpack and clean pair of shoes for P.E. activities. We have backpacks available if there is a need."
—-
There's one more reason Martins Creek School is dear to my heart. It's Principal.
Paul taught Language Arts at Martins Creek School for many years. After acquiring his Masters in Education he became Principal at Ranger Elementary for several years before returning to Martins Creek School as Principal in 2011.
Paul has been named Principal of the Year twice by his peers. I could tell you all sorts of ways that Paul goes above and beyond in his job of leading Martins Creek School, but he'd probably say I was bragging 🙂
What I will tell you about is an opportunity to help the school.
The sharp looking truck at the top of this page is being raffled off by Martins Creek School, home of the Hornets.
Here's the details of the raffle:
Raffle tickets may be purchased for $50 each.
● Only 2,000 tickets will be sold.
● A winner will be drawn once 2,000 tickets are sold.
● MCS reserves the right to sell tickets for one year's time from the beginning of the raffle sale (October 9, 2019). This means, tickets could be sold up to October 9, 2020 before a drawing is held.
● If 2,000 tickets have been sold by 2 p.m. on November 9th, 2019, a winner will be drawn during the 7th Annual MCS Car Show.
● The winner does not have to be present at the drawing in order to claim the prize.
● The drawing will be videotaped, and the recording of the winning ticket being drawn will be posted online when the winner is announced.
● Should the threshold of 2,000 tickets not be reached by October 9th, 2020, all funds will be returned to the ticket buyers, and the raffle will be cancelled.
● No staff member or employee of Martins Creek School may purchase raffle tickets for the classic truck; however, family, friends, and neighbors of school employees may purchase tickets. Employees of other Cherokee County Schools and employees of the school district are eligible to purchase tickets.
● Neither Kimbrell's Classics nor Martins Creek School issues any warranty, expressed or implied, with regard to the truck being raffled.
● The winner is responsible for all taxes, tag and insurance, which must be paid prior to the possession of the vehicle.
● The truck being raffled is restored to driver quality, not show quality. This means that it has defects both in appearance and mechanical operation, such as cracks, blemishes, or other minor imperfections that are noticeable to the untrained eye.
● 90% of the money from ticket sales will go to Martins Creek School to fund improvements to the facility, to purchase needed equipment, and to support student programs.10% of the ticket sales will pay for the cost of the prize (at a discounted rate of 55% off, courtesy of Kimbrell's Classics).
● Tickets may be purchased at the school. Ticket buyers may also mail a check or money order made out to "Martins Creek School," and a ticket will be mailed to the ticket buyer. Please be sure to include your name, phone number, and mailing address (if this information is not provided on your check). The school mailing address is 1459 Tobe Stalcup Road, Murphy NC 28906.
Thank you for reading this post. I don't often publish things like this, but I assure you this is a worthy cause and your contribution will be greatly appreciated by the students, staff, parents, and community members of Martins Creek School.
Tipper
Subscribe for FREE and get a daily dose of Appalachia in your inbox